By Julia Norton –
Being crowned homecoming queen in high school is something many girls only dream about. For Laura Wissler, however, it's become a reality.
Wissler was crowned Penn Manor's 2011 homecoming queen Friday, October 7th. The other members of the homecoming court were Michelle Dempsey, Kelly Lenahan, Ellen Blazer, Kayla Bixler, Sara Bennis and Demi Greenawalt.
"It was a good group of girls. We all got along," said Wissler. "We've all known each other just through going through school and classes."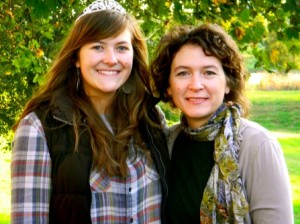 Wissler wasn't the only person in her family to be crowned homecoming queen at Penn Manor. Her mom, Dannel Wissler, was also in the year 1986.
"I was surprised and excited," said Dannel about winning. "I appreciated that my classmates selected that for me."
Despite the family legacy, she wasn't pressured to win.
"My mom didn't pressure me at all. She was just proud that I was on the court. If I won, she was happy with it. If not, she was okay with that too," Wissler said.
Dannel confirmed this by stating, "However it worked out was fine. Even being on the court was a privilege for her. Each girl at the school is special whether or not they're on homecoming court. That doesn't define them and it doesn't define Laura."
Some people might find the process of running a burden, but not her.
"It was a pretty cool experience. It was an honor to get picked out of those seven great girls. I'm very happy," said Wissler.