By Hannah Reen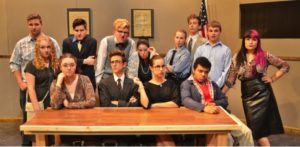 Nothing to do this weekend? How about coming to see Penn Manor's fall play? Tonight, November 18, and tomorrow night, November 19, at 7:30 p.m., Penn Manor Theatre will be hosting the production of "Twelve Angry Jurors." Tickets are available at the door and are $5 for students and $7 for adults.
Although "Twelve Angry Jurors" is a very popular production to perform in high schools today, this will be Penn Manor's first time premiere. When asked why "Twelve Angry Jurors" was chosen this year, Carole Shellenberger, the play's director, said, "In light of today's political atmosphere, I thought it was the perfect time to do it."
The play centers around 12 jurors just out of court, deliberating whether a 19-year-old boy is guilty of stabbing his father. Drama starts to arise in the beginning of the play when 11 votes are cast for guilty and one is cast for not guilty. Even though the majority clearly rules, the vote is not unanimous and thus, thickens the air among these jurors, stirring up emotions.
Many of the actors chose the same scene from the play as their favorite.
"I don't want to give too much away, but it's definitely the fight scene," said senior, Skyla Taglieri, who is cast as Juror #11.
"It's emotion-packed and adrenaline-filled," said senior, Parker Brown, who plays Juror #10.
Those who aren't theatre fanatics, might not realize what goes on behind the scenes when putting on a production. The cast is most visible, but the crew works hard behind the scenes. Lighting, sound, construction, marketing, makeup and costumes all play a role in making sure everything goes smoothly.
"Everyone spends a lot of time behind the scenes, working on the little details, to make a bigger picture in the end," says junior, Claudia Heitland, who plays Juror #4, when asked about what goes into the production process.
The backstage crews also spend their time at their own rehearsals during the weeks that the actors have their practices. On the weeks leading up to the shows, the cast and crew spend nearly six to eight hours, just over the weekend, at rehearsals to make sure that the performances go well. Some things, such as the makeup and costumes, are picked out and arranged well ahead of time, while others, such as the lighting and sound, are only able to be tested a few weeks in advance.
"Theatre is a lot more committed than people give it credit for," said Heitland.