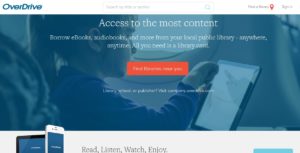 By Aly Whiteman
Are you the type of person who loves to read new books, but in the end loses all of their library book, and gets a huge fine? With the Overdrive program, you can never lose the books, they automatically return and there's no way you can get a fine.
In winter 2014, district administrators and librarians sat down and decided to participate in a system called Overdrive. This system allows students to borrow library books to read on their phones. A year later, Penn Manor School District was registered to let students check books out electronically.
This program costs the library nothing, and students are allowed to take out books as they please.
In order to check out books through Overdrive, students will need to follow these steps:
Download the Kindle app and the Overdrive app. Both are free.

Sign into the Overdrive app with your school id, and find a book you'd like to read.

Check the book out, and download it to the Kindle app.
After you've downloaded the book, you have it for two weeks, until you either renew it via Overdrive or it automatically returns. No lost books, no fines.
The Overdrive system is also available on your laptop if you don't have a phone or tablet.
"It allows book access in a more convenient way for students that are interested in reading on their phones and tablets" said Mr. Jeffrey Taylor, librarian.
The books on the app are primarily fiction, with a few nonfiction books. The nonfiction books would be good for independent reading but not to use for a research paper.
There are over a thousand books on the app, with new books coming every year. Students can request to add a book on the app, but that would cost the library approximately $60 to $80, so it would be easier to request to order the physical book in the library.
"There are a lot of new and exciting books on Overdrive, ones that we don't have in the library, so it's good to check out if you want something new and exciting," said Mr. Taylor.
There are multiple copies of the books on the app, but if all of the copies are out, you can place a hold on a book. It will take approximately 2-3 weeks to get the book if you're the only hold on the book. If there are other people who have the book on hold, however, it might take a month or more.
There are copies of the summer reading books for classes as well, such as "To Kill a Mockingbird" and "The Great Gatsby." If you are more interested into listening to the book rather than reading it, you can borrow an audiobook for select titles.
Don't have a tablet or phone? You can go to the Overdrive website on your school computer and read from there or borrow a Nexus Tablet from the library. All you need to do is fill out a permission form, and you can borrow a tablet for two weeks.