By Spencer Barnett, Lizzie Pflumm, Alex Geli and Kendal Phillips –
Take cover Penn Manor- severe weather has hit.
The National Weather Service conducted a tornado warning for South central PA. Penn Manor students and faculty were guided to designated areas for  two severe weather drills Thursday morning.
The first drill was a tornado warning, starting at 8:50 a.m. Students were told to remain in their block one class and sit along the wall. The second severe weather announcement was made at 9:40 a.m.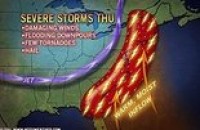 The high school building didn't experience severe damage from the storm but water leaked in several spots including the girls locker room in the old and new gym, the benches behind the auditorium and the band room.
Students in classrooms on the second floor were evacuated to lower rooms such as the faculty room in the cafeteria, the chorus room in the music department and the foreign language was moved to the weight room.
Photos by Kendal Phillips and Alex Geli:
Eric Howe, the dean of students, said the drills went smoothly.
"I think the students and staff need to be commended for how well everyone buckled down and cooperated," said Howe. "Normally it starts with phase one, where you shut the windows and blinds, but this time we had to enter right into phase two."
Moving at vicious speeds,winds reached 50-70 mph and the tornado warning covered many townships across Lancaster County.
Principal Phil Gale said the school responded to the severe weather alert as expected.
"I think it went well, especially the second time after already having one practice," said Gale.
According to the National Weather Service in State College, Pa., the tornado warnings were issued for Willow Street and Millersville at 8:55 a.m., Strasburg around 9:00 a.m., Leola and Paradise at 9:05 a.m. and New Holland and Akron around 9:10 a.m.
According to WGAL, a tornado warning was issued for the Holtwood area at 9:50 a.m.
The Palmyra School District has closed all schools. A Palmyra middle school's lunch food transport truck reportedly overturned in the parking lot. Wordsworth School in Harrisburg, the Palmyra public library and Juniata County school districts both closed also, because of the severe weather.