By Jared Heming, Monica Hoffman, Heury Ventura,  Samantha Padua, Brooke Stoops, Delky Flores, Carly Rebman and Eric Gardner-
After four grueling days of school, the Labor Day weekend is finally here! The holiday will be fantastic because the weather will be mostly sunny.
This Labor Day weekend's weather will be very nice but a bit humid for the first three days.   Look out for possible thunderstorms on Sunday.  Friday will be humid with a high of 80 degrees and a few showers on Monday may ruin some Labor Day plans.
Friday looks good for Penn Manor's first football game.  Fans will enjoy the summer temperatures.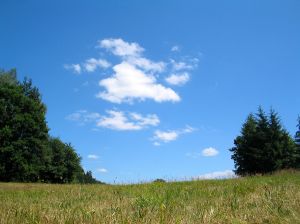 Although mostly glorious, this long weekend may include intervals of clouds and sunshine with a 30 percent chance of thunderstorms and showers on Sunday and Monday.
Friday through Monday it looks like the humidity will be mixed with sun and clouds throughout the days with highs mostly in the 80s.
Penn Manor Senior Chris Gotwals is hosting a family party and an all-day swim with friends.  Later in the weekend, Chris is golfing with his dad and grilling out for Labor Day.
"It's gonna be gorgeous, but I'm having my plans, rain or shine," said Gotwals.
Another student, Penn Manor junior Jordan Machado said he is planning to go to Dorney Park Sunday.
"Sunny, hot, unbreezy.  I would love it," he said.
Delky Flores, a Penn Manor junior is hoping for good weather for First Friday.
"Saturday I have to work but I may go to the movies and have a picnic with my family on Sunday."
Penn Manor's Angelica Cruz, a junior, plans to go to First Friday (in downtown Lancaster) and to other parties during the weekend.
Although there is some chance of possible showers toward the end of the weekend, students should keep their heads up and enjoy the plentiful good weather that will be around.