By Sam Valentin-
Many words can be used to describe Micheal Vick such as dog fighter, hero, reborn, bankrupt and now one of the highest paid players in the NFL, again.
Michael Vick recently signed a six year deal worth $100 million which will make him once again one of the highest paid players in the league.The Eagles quarterback contract contains about $40 million guaranteed according to ESPN insider, Adam Schefter.
The deal will make him the third highest paid player in the league behind only fellow quarterbacks, Peyton Manning and Tom Brady.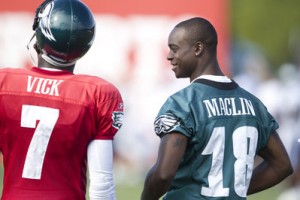 He has been with the Eagles for two years now. Vick took over the reins as starting quarterback after Kevin Kolb got hurt in the first game of the season.
Vick never looked back, winning eight of his eleven starts, being named comeback player of the year, starting the bro bowl and setting career highs in touchdown passes with 21 and he rushed for 9 more.
Vick, 31, became the first player in NFL history to sign more than one $100 million contract in his career. He signed a $130 million contract for ten years with the falcons back in 2004 en route to a loss in the NFC Championship game to the Eagles. He only played 32 games under the new contract before his career turned upside down.
Even though he is guaranteed $40 million over the next six years he wont be getting all of that cash because he still owes creditors. But he should be able to pay all of that back by 2014 according to CNBC's Darren Rovell.