Eyes from all over the world watched with intensity, including the eyes of many people at Penn Manor.
Chilean miners were raised above the lithosphere after spending 69 days a half mile under the earth's crust to be greeted by the ones they love and cherish, their family.
Thirty three miners in all were rescued lasting an astonishing 22 1/2 hours.  The first miner arrived at 4:14 EST,  elated to see his children and wife, but quickly returning to the hole to help aid the rescue of his fellow workers.
The stories within the stories were amazing.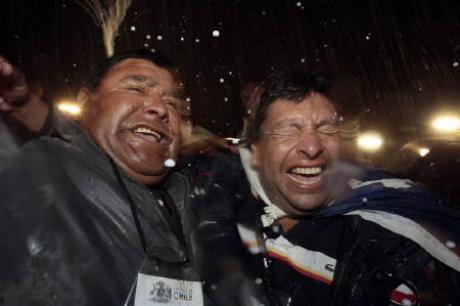 Before the mine collapse, the last miner rescued, Luis Urzua, made one day's worth of food for 33 people end up lasting 17 days, at which point they received more.  "Palomas," Spanish for carrier pigeons, were lowered to provide the miners with food, medicine, and necessities to survive.
At Penn Manor, the miners' rescue affected students and staff.
"I would go crazy.  I don't like small spaces and the dark," said freshman Maggie Mclintock, of the agony of being trapped in a mine for 69 days.
"I'd probably miss my family and the sunlight," said freshman Mackenzie Trimble.
"I would miss the fresh air," said freshman Kerry Wakefield.
Heather Paquette, health/gym teacher at Penn Manor, watched this horrifying incident since day one and said she would miss her family greatly if she was one of the miners.
"The fact that they got tubes down so quickly is fantastic since they (weren't) supposed to be out until Christmas," said senior Becca Irwin. " It's stupid they monitored everything, but makes sense."
"It started out sad, now it's happy," said sophomore Elijah Villalobos about the ordeal.
"It's about time they got'em out," said senior Ella Perry.
"They were rescued pretty fast," said sophomore Patrick Ament.
Senior, Tyler Beckley, would miss being able to eat homemade food, he said.
Sophomore, Amber Kuhns, said she would miss her family, phone, boyfriend and lights.
"The people got trapped and they thought they were dead, but they weren't.  I'd miss being able to do things and having a life," said freshman Jesse Burkholder.
The whole rescue operation was a costly $22 million to the Chilean government.
Miners were given nausea prevention pills and sunglasses so the ride and arrival in the Phoenix, a 13 foot tall capsule painted with the colors of the Chilean flag, was not as stressful.
One by one, as all 33 miners stepped out of the Phoenix, Chilean President Sabastian Pinera greeted each one with a warm welcoming to life back on earth's surface.
"I thought it was really cool that the president of Chile was there greeting everyone the whole time," said junior Austin Fink.
These miners were the longest to survive trapped underground in recorded history.
All of the men emerged, wearing very little due to heat, in good health and were treated for physical and psychological issues.
This event will surely be remembered forever, here and around the world.
By Cree Bleacher
Sarah Garner, Toby Holsinger, Bri Reisinger and Jordan Sangrey contributed to this report.