By Alex Blythe –

The Lampeter-Strasburg School District on Monday named Kevin Peart as their new superintendent. Peart, a former assistant high school and Hambright Elementary school principal at Penn Manor, will replace retiring L-S Superintendent Robert Frick starting July 1, 2011.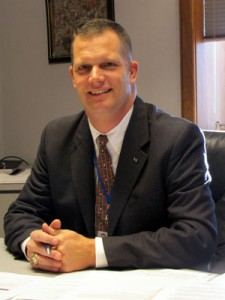 Out of 10-15 applicants, Peart was chosen to carry out the superintendent duties at the neighboring school district.
Before joining the L-S administration as assistant superintendent in 2006, Peart was a former Penn Manor High School assistant principal and taught in the Gettysburg school district. He also lives in the school district with his wife, Megan, who works as an instructional aide at Central Manor.
"Dr. Peart is an excellent teacher and administrator as well as a friend of mine," said Penn Manor Superintendent Michael Leichliter.
According to Leichliter, he and Peart have had similar careers.  They started as assistant principals together in 1997 at Penn Manor, Leichliter recounted,  took classes for their doctorate degrees, became building principals in 2000 and assistant superintendents in 2006.
"I am thrilled that he will be a fellow superintendent and we will get to work together again on issues related to improving education and programs in each of our schools," Leichliter said.