By Alex Blythe –
If your wallet isn't paper thin by now, it will be very soon. Gas prices are rising all over the United States and will continue into the summer months.
By the time summer hits, gasoline could be up to $4.00 per gallon in some parts of the country, even more in others.
The former President of Shell Oil Company, John Hofmeister, thinks the price of gas will rise up to $5.00 by 2012, says The Huffington Post.
The high Oil prices around the country have been raising the gas prices, increasing it by 34 percent since May, also according to The Huffington Post.
According to Pennsylvaniagasprices.com the Sheetz and Turkey Hill convenience stores, located on Centerville Road, are both up to $3.73 a gallon. BJ's Wholesale club in Centerville is at $3.69 a gallon and the Turkey Hill off of New Danville Pike and Marticville Road is up to a whopping $3.73 a gallon.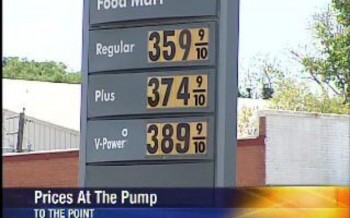 "Before the rising gas prices I paid $33 (per tank) and now I pay $40.00. I try to fill up my tank once every two weeks if I can," stated senior Katie Coons.
Senior Eric Clark now pays $45.00 for gas opposed to $30.00 before.
The new national average for unleaded gas is $3.77 per gallon, which rose 22 cents from a month ago. A year ago the price for unleaded gasoline was only $2.86, which is almost a whole dollar less, according to today.msnbc.msn.com. The cheapest gas in the country is in Tuscon, Arizona at a low $3.41 a gallon.
For the fifth straight week, gas sales have been down because of the rising prices. More and more people are taking other transportation or carpooling to avoid paying the high prices.
"It's depressing," expressed senior Abby Newport.
Before the gas prices skyrocketed, Newport paid $20.00 for gas. She now pays $35.00.
Gas prices haven't been this high since 2008. According to cbsnews.com, in Los Angeles, California, the average prices are up to $4.14 per gallon.
The Giant Food Stores located around Lancaster County have "Gas Reward Points." When you shop at Giant with your Bonuscard, each dollar you spend you earn one point. Once you reach 100 Bonuspoints, you earn 10 cents off a gallon of gas at any participating Giant to Go gas station. Giant to Go is located off Fruitville Pike and Richmond Drive. There are many other locations coming soon.
Turkey Hill Minit Markets also have a great deal going on. According to Turkeyhill.com, when you use your Turkey Hill rewards card, you earn points. When you earn 100 points, you get 10 cents off of a gallon of gas. Coffee, cappuccinos, slushies, fountain drinks, iced coffee and milkshakes are just some of the items that will earn you 10 points. Two points will be earned for every other selection for every dollar spent. For example, if you buy a bag of chips for $1.39, then the person will get two points; but if you buy a $2.11 pack of Chex Mix, then you would get four points.
According to Weismarkets.com, if you use your Weis Markets rewards card during your shopping experience, for every $50.00 you spend you will earn a 10 cent discount on any grocery or pharmacy item. You must spend $50.00 in order to get the 10 cents off a gallon. The gas points may be redeemed at any Weis Gas N' Go location or at any participating Sheetz location.
Keep saving up money for gas, Penn Manor – you're going to need it.