By Brandon Bowers –
UConn is on the right track for their seventh NCAA title, beating the tough Purdue, Georgetown and Duke squads.
Georgetown came out ready to play leading by seven in the second half of their regional semifinal Sunday.
UConn met Georgetown two times before and came out ready to tackle them once again.
Maya Moore had a great game leading her team with 23 points and 14 rebounds, to a 68-63 victory over the Hoyas.
"Me and Maya decided we didn't want our careers to end here today," Lorin Dixon said in an interview after the game. "That's just a great feeling. I think everyone wanted to continue the tournament."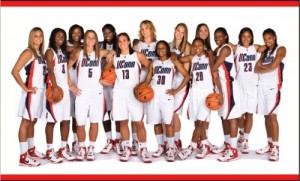 "Today was a great reflection of what she's been doing for the last month for every single day," UConn coach Geno Auriemma said of Dixon in interview after game.
Lorin Dixon finished with four points, four assists and four steals.
With a big game last Tuesday night against the Duke Blue Devils in the Elite Eight battle to get to the Final Four, UConn came out ready to play.
The ending score was a blowout, 75-40, UConn on top yet again of the Blue Devils with Moore having yet another great game with 28 points, 10 Rebounds, 1 Assist, 7 Steals, 2 Blocks
With a big game against Notre Dame on Sunday, April 3, they will spring off of their victorious effort against Duke to pull off another win to continue their run for a third consecutive NCAA basketball championship.