By David Gataric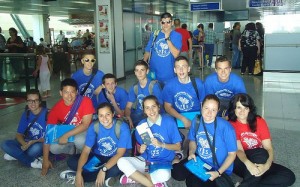 Editor's Note: The writer is also a participant in the program discussed in this story.
"Honestly, I didn't hope that I'm gonna get this scholarship," said Haris Jasarevic, one of 12 high school students who came from the southeastern European country Bosnia & Herzegovina.
The United States gave these students the opportunity to experience American society and to learn about the United States, and for American society to learn about them and their country.
The Kennedy-Lugar Youth Exchange and Study (YES) is an exchange student program completely funded through the US Department of State and sponsored by the Bureau of Educational & Cultural Affairs. It provides scholarships for high school students from 37 countries worldwide.
Thousands of high school students worldwide apply every year for this scholarship and only a minority of students go to the United States. YES Abroad gives a chance for US high school students to experience life in one of 12 countries worldwide.
The main goal of this program is to introduce the US to other cultures and other cultures to the US.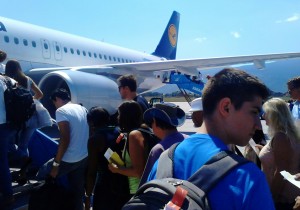 This year the YES program celebrated its 10th anniversary.
With the aim of adaptation to American society, exchange students live with a host family and attend school for one school year.The student's stay in the US also includes field trips to other states and visits to important American landmarks.
"I wanted to explore America and to see how people live there," said Tarik Slanjankicas a reason why he applied for YES program.
"Main difference between American and Bosnian culture are people. They act differently and think differently," said Slanjankic.
Slanjankic is currently placed in New York City.
"Different, exciting, many things to learn and things to tell," he said of his experience in New York so far.
Participants in the YES program from Bosnia & Herzegovina have been placed all over the United States, from the East to the West Coast.
For a Bosnian high school student to participate in the YES program, they must have higher level knowledge of English and be between 15-17 years old. Writing essays about solving every-day life problems and English language tests are part of testing.  All testing material is sent to YES Program's main office in Washington, DC. The Main office decides who will get the scholarship.
"I went on testing, just because I didn't want later to tell myself "you should went to that testing". And after while, they called me and they told me that I made to third round of testing. I made in 80 of 560 student who were in the competition for scholarship. That was huge success for me. And after five months, they called me again, and again same story, they told me that I got scholarship. I couldn't believe it," said Haris Jasarevic, currently placed in Michigan.
Jasarevic enjoyed his first days in the United States.
"First few days here I'm gonna remember because they were awesome. First day I went to run 5k run for cancer cure, and it really awesome. I met new friends, and I gain some experience my first day here. I was running on horse track, so it was my first time to see horse track. The next days were pretty much the same. I was meeting new people, gaining new experience, getting to know American culture and her people."
Students in the YES program have eight more months to "investigate" the United States because the students will stay until the end of the American school year.