By Cassie Kreider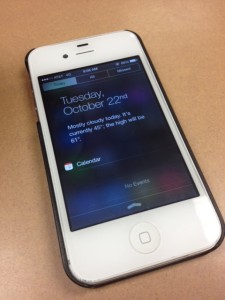 Apple's new update, iOS 7, was launched in mid September to mixed reviews from Apple product consumers. Many of the new updates and features include a control screen that can be accessed by swiping upwards from any screen.
The control screen was added to make multitasking easier for the user, as it contains options to change the screens orientation, turn on or off Wifi and Bluetooth, and find things in the dark with the new flashlight. The Airdrop options, which can be accessed by swiping down from any screen, houses a calendar and missed alerts from texts and apps.
For more information on all the new changes and features, Apple's website highlights everything iOS 7 gives its consumers, http://www.apple.com/ios/whats-new/.
Already many people have scrambled to download the update, only to be met with a loading bar that gives a waiting time anywhere from 30 minutes to 6 hours. Students at Penn Manor High School went crazy trying to install and download the update while in school. Many students complained about how long the process took even when they were hooked up to their home Wifi. More complaints and compliments were to follow.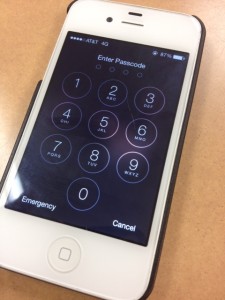 "The way the update looks, especially the lock screen, looks neat." said Courtney Mann, a senior at Penn Manor High School who owns an iPhone 4S.
On the other hand Senior MacKenzie Trimble finds the new look of the update to be, "childish looking." She also points out that Apple may have borrowed their design from the Samsung Galaxy S4, which Trimble is an owner of. She continues with "On the Galaxy S4, when you hold down the home button, it shows what apps are running. To get rid of them, you slide the app to the right to stop it from running in the background. The iOS 7 update allows you to do that but the only difference is you swipe up."
Trimble goes on to say she's not a fan of how, "not everyone can get it (the update) if they have an older brand of Apple products," which she doesn't find fair.
What Trimble said is true, the iOS 7 update is only available for the fourth and fifth generation ipad, the ipad 2, ipad mini, fifth generation ipod, the iphone 4 and 4s, and the iphone 5. The update will come pre-installed with the iphone 5s and 5c.
Many consumers have complained about motion sickness with the new visual effects that came with iOS 7. What this means is, when the screen is tilted left or right, up or down, the apps and the background picture automatically adjust to this movement.
This feature can be turned off in the settings under general, then accessibility. Shutting off this feature will also save battery life. Along with a longer battery life, pictures will also be easier to reposition for backgrounds and lock screens when this feature is switched off.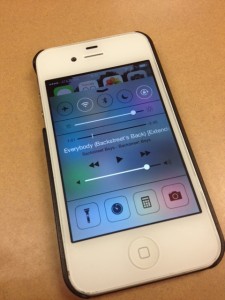 One thing Mann said she liked was how the control panel (which can be accessed with a swipe upwards from any screen) makes things like accessing the flashlight, clock, calculator, screen orientation and brightness, easier.
Mann does not, however, like the new iTunes radio feature. In the music app there is an option for listeners to select certain genres or bands they wish to hear more music from, with options to like/dislike a song and adds after every few songs. Beware though, this service does take cellular data. Mann compared this feature's functions to that of Pandora, a free app on iTunes that lets consumers control what they listen to.
Two additional updates have been put out to fix any bugs with the iOS 7 update.