By Alexis Cunningham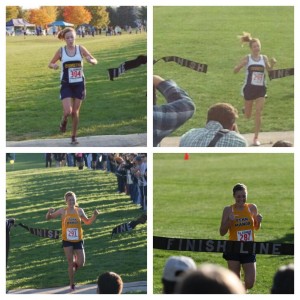 Greta Lindsley chuckles when she reflects on her best memory of cross country here at Penn Manor.
It was when she won Leagues as a freshman. This was the beginning of her undefeated varsity cross country career. Lindsley stated that runners, coaches and fans underestimated her because she was little and inexperienced.  She smiled during this remembrance, saying that she was determined and that's what won her race that day.
Nearly three years after this race occurred, Lindsley prepares for her final PIAA cross country state championship on Saturday, November 2. She continues to practice every day for physical training; she is also eating healthier, getting more sleep and trying not to stress.
She qualified for states by placing second at the PIAA District 3 cross country championships with a time of 18:58. Penn Manor girl's cross country runners, Katya Anders, Hannah Willig, Rachel Stover and Liyah Banzhof also ran at district's; Lindsley is the only Penn Manor girls cross country runner who will compete at states.
Lindsley states that she's nervous about trying to repeat what she's been successfully doing for so many years.
"The more experience you have, the more pressure there is," said Lindsley.
Lindsley hopes to qualify for nationals during Saturday's race. Despite her high expectations, she also wants to have fun, focus on her pace, breathing and, of course, smiling.
Lindsley said that she is always filled with relief after every race. When she crosses the finish line, the first thing that crosses her mind is, "Where's the water jug?"
Lindsley has been undefeated in the league all four years of running varsity cross country. Her best season was her sophomore year when she was undefeated in all races, including invitationals, except states where she placed eighth.
Lindsley's personal record was set at the Carlisle Invitational her junior year with a time of 18:13.
Lindsley said that it's a bittersweet feeling that her last cross country season is coming to a close, but she is looking forward to running cross country in college.
"I'm proud, and I wouldn't trade it (running) for anything," Lindsley said of her accomplishments.
As the off season approaches, Lindsley, who prefers track running, racks up more mileage and participates in cross training to prepare for the upcoming track and field season. Her favorite running workout is 200 and 400 meter repeats around the track.
Lindsley's goals for her final track season are to win the 1600 meters race at states and qualify for Penn Relays in the girl's mile.
Lindsley commented on what she loves the most about running.
"I love how I feel when I'm done running and to see how much I've progressed throughout the season."
Lindsley also shared that she is grateful for the friends and opportunities running has given her.
"It (running) means a lot to me. It's always nice to get away from stress and regular teenage problems. Running is a nice outlet and the fact that I'm good at it is a plus. Even if I wasn't as good as I am, I would still do it because I love running."
She says that running has impacted her life the most by giving her the chance to go to her dream college. Lindsley has narrowed down her colleges of choice to Syracuse University, Georgetown University, Penn State University and the University of North Carolina, Chapel Hill. She wants to major in communications and journalism.
Lindsley is grateful to her coaches who always believed in her and worked her hard, but most of all, she credits her father who always tells her to be a gracious and humble person. Her father, Todd Lindsley, is a runner as well and has helped train his daughter in pacing and strategy.
"My dad reminds me why I run," said Lindsley.