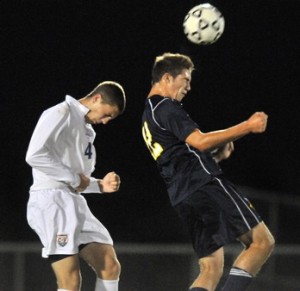 By Cameron Rebman
For the 10 seniors on the Penn Manor boys soccer team, this season is their last opportunity at making a run for the league title. Head coach of the team, Steven McCabe, says he hopes this season could be a bounce back from previous years.
With a tough schedule ahead of the team, Coach McCabe says that playing stronger opponents is the only way to improve.
''We want to reach both district and league playoffs,'' said Coach McCabe.
The team had  three straight wins in the middle of September against, McCaskey, Warwick and Cocalico.
Second year captain, senior Ian Byrnes, said that he would also like to make the Lancaster-Lebanon League playoffs. He stated that he wants the team to work hard, and pull out a win in close games down the stretch.
When asked how it feels to be a captain of the team, Byrnes said, ''It means a lot. Knowing that the guys trust me, and respect me enough to lead them on the field really means a lot, and I'm thankful for that.''
With a record of 4-8-1, the guys play McCaskey Thursday afternoon at McCaskey.