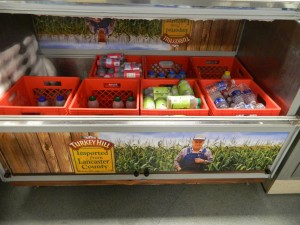 By Sarah Sanchez
Have you walked into the lunch room and noticed a difference? Yes, small drinks such as, lemonade, tea and even small waters are gone. Students might have also noticed that desserts are officially missing from the main lunch and many other changes have been made.
"Lunch changes are due to the sugar content," Mrs. Sherlyn Wolf, cafeteria manager, said.
According to Mrs. Wolf, Penn Manor is only able to serve students and staff a certain amount of starches and sugars, and serving sizes are important. Government regulations determine how many fruits and vegetables and which kinds of fruits and vegetables to serve since Penn Manor is included in the National School Lunch Program. The National School Lunch Program is a federal program that provides low cost or free lunches to students who need help paying for meals.
There's just one question. Whatever happened to the small waters that came with lunch last year? They don't have sugar or starches, so why are they gone?
Mr. Randy Wolfgang, director of support services, explained that federal regulation will not allow any substance to substitute for milk, not even water.
"Students are not required to get a milk, though they are required to get a fruit or vegetable," said Mr. Wolfgang.
Other school districts are also involved in the healthy food kick. Jeanne Kandra, director of food services for Manheim Township, told Lancaster Online, "We continue to serve more and more local fruits and vegetables when in season."
A new addition to the new lunch changes that Wolfgang brought to attention was that last year there was only 50 percent whole grain in lunches, but this year it's 100 percent whole grain. If you have not noticed, even chicken nuggets and meats are now whole grain.
Next year school will be required to have sodium reduced. The cafeteria will be required to serve more fruits and vegetables, and meat will be optional since most of the lunch's calories come from the meat that is served. These changes will also affect breakfast according to Wolfgang.
Lunch changes are also market driven or due to student preferences. For example, last year clam chowder soup was not a huge hit, so this year you may notice that clam chowder with not be around as often.
"Last year I loved being able to get a small water that I didn't have to pay extra for. I hate that I have to pay extra for a big drink and I hate milk," said Penn Manor senior Sierra Bland. "I also never eat the fruit. I just give it to someone else."
Lunch changes are also to make lunches that are sold more healthy. You can choose to get your sweets, but they will no longer come with main lunches.