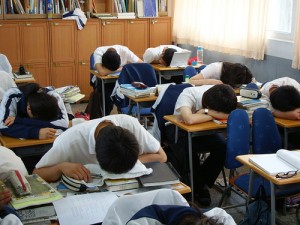 By Josh Lefever
Every year new students graduate from high school. Every year students begin to slack and some of their work starts to slip. Many colleges each year take back their acceptance to students for low academic performance in their senior year.
When many students were asked if they thought that they did procrastinate more in their senior year some had very different answers.
Richard Schulz is a prime example of a "procrastinator."
"Yes, I have waited way too long to do papers and homework assignments, said Schulz. "I've found myself up late many nights trying to get a paper done for the next day."
Harrison Schettler also agreed that he has slacked much more his senior year.
Some students allow senioritis to carry over from their senior year to their freshman year of college. They slack and some even get kicked out of college.
Many students at Penn Manor do not think the overall slack of their senior year will transfer into college.
"I am going to make sure I actually get my work done in advance, and study for all my tests,'" said Schulz.
Shettler actually has some motivation to keep his grades up here and in college.
"Next year I'll be running track so I think that will help me keep my grades up."
Some of you may be wondering if these students planned for an easy senior year.
"I did not purposely make me schedule easier, but I would say that i've had much more fun this year in many of my classes," said Schulz.
Danielle Landis and Shettler both agreed they also did not plan to have an easy senior year.
As the year is dwindling down now students can see how their effort decreased across time.
"Yes I would say my work ethic at the beginning was much higher than now," said Schulz. "Just all the things that i've done this year has shown me I am almost done with this part of my life."