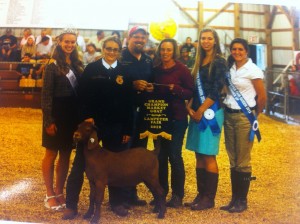 By Michelle Zercher
Have you ever wondered what FFA students are talking about when they talk about their SAE projects, which are supervised agricultural experience projects?
A supervised agricultural experience is a project that a FFA member can complete and get a credit toward graduation. Students complete these projects with the help of their FFA advisors also known as agriculture teachers and can receive credit for up to four SAE projects.
If students want to do an SAE project, they have a lot of options. The two most popular projects are raising animals and working.
Some students will work at a farm or really any job. Students can also work at a flower shop or restaurant, for example, as long as they keep a record of their paychecks and what they do everyday. This kind of SAE project is called a work experience project.
Jesse Burkholder, a junior, works on his family's dairy farm.
"I enjoy working outside and working with machinery," said Burkholder.
Another possible SAE project is to raise animals. When students are raising animals, they have to keep records of what they do with the animals everyday, the money they spend on feed, vet bills and boarding costs, and the income they receive from selling and showing their animals.
When September comes around it becomes a very busy time for many of the Manor FFA members, because for most students it is time to show the animals that they have spent the past months raising, feeding and training for the fairs. Students can take their animals to the Solanco and Lampeter fairs.
The most popular animals that Manor FFA kids show are steers, pigs and lambs.
Margaret Drumm, a senior, has been showing steers for six years. She said that the normal time to get a show steer is in October or November.
Cameron Long, a senior, shows pigs and steers.
According to Long, fair pigs are bought in the middle of May. Long shows pigs at the Lampeter Fair, Solanco Fair and the Pennsylvania Farm Show. When asked his favorite part of showing he said, "my favorite part of showing is getting to compete with my friends".
Katie Hess, a junior at Penn Manor High School, shows pigs and dairy beef.
"My favorite part of showing is getting the animals all ready so that they look nice," said Hess. "I like to be able to show the judge that I really have been working with my animals, and I love when my hard work pays off. I also like selling them and making money".
Kayla Major, a junior at Penn Manor High School, shows lambs.
"My favorite part of showing is the rush of adrenaline I get when I walk into the show ring and get to show off my hard work," said Major.
Katrina Reiff, a senior at Penn Manor High School, shows lambs, pigs, and dairy beef.
"My favorite part of showing would have to be competition but also showing beside my sister and friends," said Reiff, who shows her animals at the 4-H roundup, Solanco Fair, Lampeter Fair, and the PA Farm Show.