By Anthony Polaski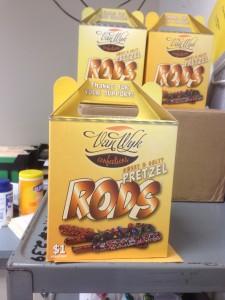 There's a sweet chocolate scent afloat in the Penn Manor high school hallways thanks to Sweet Temptations, a class-created company that sells a variety of chocolate covered pretzels. This is part of the entrepreneurship class which teaches students how to start a business, how to run a business and how to liquidate the business.
There are three different kinds of pretzels for sale: candy covered, rainbow sprinkles, and crunchy toffee. The pretzels cost $1.50 each or two for a $2.
So far, the company has experienced success with sales with only a few minor setbacks.
Sweet Temptations ran into a problem when their original supplier stopped supplying at this time of year and a new source had to be found. The new source charges 10 cents more per pretzel but eliminates shipping costs so there is both an advantage and a disadvantage.
The entrepreneurship class has a standard business class curriculum but the class revolves around the creation of a student generated business idea. After determining what the business is going to be, students are elected or volunteer to be different positions of the company. Every company has a production, marketing, finance, public relations and human resources department. Each department has a vice president which leads the department and a company president is elected to oversee all activity.
Deion Valentin is a senior in the entrepreneurship class this semester.
"This class has been a great experience so far and taught me a lot about how to run my own business and just how I could become successful and profit from my own idea," said Valentin.
To start off the company the students gain capital by selling stocks for the company. The company sold 50 stocks at $3 to anyone willing to buy. Stocks in entrepreneurship usually work out unrealistically well for buyers, giving them sometimes more than 200 percent profit.
When the company is started, the students create bylaws to determine things like how much employees would earn. For Sweet Temptations, students get paid a percentage of the profits once the company breaks even.
So far the company is experiencing  success through its pretzel sales and could even possibly do better than last semester when the class sold paracord bracelets.
Mrs. Christa Craig, who teaches the class, has advice for anyone interested in entrepreneurship,
"In entrepreneurship you need to work hard and be dedicated to your idea in order for your company to be successful."