By Emily Thyrum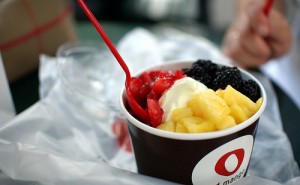 With warmer weather finally here, you might be looking forward to cooling off with a frozen yogurt.
Frozen yogurt has become popular since the 1980s and increased even more in popularity since 2005.
Some of the local stores in Lancaster include Berries, Yofro and Sweet Frog. The friendly and upbeat atmospheres of the stores promote the frozen yogurt craze.
According to an employee at Sweet Frog, the most popular flavor is probably cake batter, and the most popular toppings are strawberries, followed by Reese's peanut butter cups. The yogurt at Sweet Frog is $.41/oz.
An employee at Yofro said the most popular flavor is either mango or cookies n' cream, and the most popular topping, like Sweet Frog, is strawberries. The yogurt at Yofro is $.39/oz.
Many people might be interested in the flavors at these frozen yogurt stores. There are the standard flavors, which include vanilla, chocolate and strawberry, but there are also some more interesting flavors, mostly at Berries. At Berries, there are flavors like pomegranate, watermelon sherbet, carrot cake, gingerbread and even pumpkin.
Many people believe that frozen yogurt is healthy or a better alternative to ice cream, but this idea might not be as valid you think.
The frozen yogurt store, Berries, supports the idea that frozen yogurt is "healthy." Its website states that the yogurt has a low amount of fat, a beneficial amount of calcium and that the yogurt is "clinically proven to help strengthen your digestive system. Ice cream does not offer the same benefit."
Whether or not frozen yogurt is healthier than ice cream is debateable, but Dr. Oz takes the side against the frozen yogurt companies. According to the Dr. Oz show, frozen yogurt is packed with sugar, which may counteract the fat-free aspect of the yogurt. Also, frozen yogurt has relatively few active cultures although many believe the opposite. Compared to real yogurt, which has 100,000,000 cultures/gram, frozen yogurt only has 10,000,000 cultures/gram.
According to information on the San Francisco Chronicle's website, the main difference between frozen yogurt and ice cream is that ice cream has a high cream content while frozen yogurt does not, so the only healthy aspect of frozen yogurt is its lack of fat and possibly fewer calories. However, frozen yogurt does have more carbohydrates and sugar than ice cream.
Nevertheless, these facts do not mean that frozen yogurt should be abandoned. Dr. Oz advises people to limit the amount one eats to the rim of the cup and not to overdo it with toppings.
Also, the average teenager would probably not give the health facts a glance when ready to pig out on their favorite frozen treats.
Kaitlin Grosh and Dustin Schneider, both freshmen, agree.
"I don't care that frozen yogurt isn't as healthy as they say it is. For me, it's basically like ice cream, and you can still add healthiness (strawberries) to it," said Grosh.
Schneider simplified the situation.
"I'll eat it whether it's healthy or not."