By Devon Reis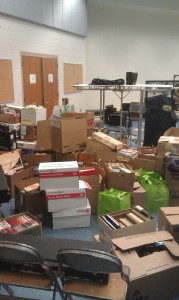 The Penn Manor Band Boosters host an annual book sale for the band to raise money. Some people might think there are not enough books to sell.
Actually, there are thousands.
"This year was the highest donation we have ever gotten of books," said Tom Mumma, band director.
There are approximately 20,000 books for sale at this year's event.
Band members, color guard members and parents of band students have worked hard to get all these books into this sale and organize it.
To promote the book sale, the organizers placed a screen advertisement at the Kendig Square movie theater, and signs, like the one outside of the Sugar Bowl. Also they sent email blasts to tons of people and paid for ads in newspapers.
All of the money that they raise at this book sale will go to the outdoor marching band show they perform at half time at football games.
The book sale will run from 4-8 p.m on Friday, April 26 and 7 a.m. to 2 p.m. on Saturday April 27. Each hardback book is on sale for $1.50, and each paperback book costs $.50.