By Damon Cummins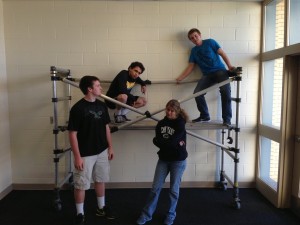 April 27 marks the date when students from Penn Manor will come out to show their stuff in front of friends and family in the Entertainment PM talent show.
Of the 35 talents who tried out in front of the nine judges including sports medicine teacher Mrs. BillieJo Atkins, senior Julie Andrusisin, senior Sarah Evarts, junior Rachel Shelley, junior Jenn Adams, junior Lauren Hillegas, senior Jillian Heckman, athletic trainer Steve Kramer and athletic secretary Cindy Bachman.
Twenty-two acts were accepted to perform in ETPM.
From local bands to individual singing from local kids to completely self-choreographed dances, there is something that will impress all audience members.
The event is organized by student council members.
Andrusisin,a judge for ETPM, said that this year's show will be enjoyable.
"[The show is] a lot of fun, successful, and a lot of fun for all audiences," said Andrusisin.
Junior Steve Short and his band, Don't Call Me Shirley, will perform a Rolling Stones song, "Give Me Shelter."
"The hardest thing about performing at ETPM is picking the right song, but other than that we are very excited," said Short. The band usually practices once every two weeks
The show will be held April 27 at 7 p.m. in the Penn Manor auditorium. Tickets can be bought during school lunches for $5 dollars or at the auditorium ticket booth on opening day for $7.