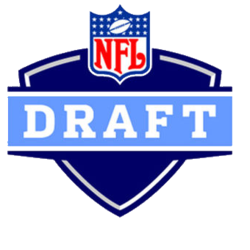 By Jon West
It's that time of year again, football fans. The NFL Draft is back.
The draft is time for teams to hopefully rebuild and improve their respective roasters from last years season and free agency. However, the opposite is still true as well. Fans have watched in horror as their team wastes a high draft pick on a player who turns out to be a bust when he transitions to the pro game.
As we countdown the days and hours before the draft kicks off on Thursday night, fans are becoming antsy, trying to anticipate what players will come off the board first.
"Waiting for the draft is tough," said senior Jordan Williams. "You never are really sure what player your team is going to get and this draft class makes it that much more difficult to predict."
This year's draft is a strange one to analyze. It is not a weak draft class in any sense, but the lack of one or two superstar players is certainly making the draft complicated, unlike last year's draft when the first two picks (Andrew Luck and Robert Griffin III) were a sure bet.
Unglamorous positions such as offensive tackle and defensive ends are littered all over the place. Positions such as quarterback and running back are lacking. Players who were once considered the cream of the crop have fallen from potential 'Top 10' status to 'early second round'. Mock drafts are in a state of constant flux.
"I have watched the draft as long as I can remember and not once was I this confused of who will end up where", said senior Richard Schultz. "I just have no clue at this point."
Many analysts are having the same problem as well. Not one of their predicted drafts is remotely similar to another. Not to mention the trades between teams during draft day that will shake up an already unpredictable draft.
In the end, though, this is what the draft is all about. Knowing who will get whom before it actually happens ruins the fun of it all. And this draft will be no different. We won't know for certain until a player puts on the cap and is called to the front of the stage.
Its good to see that what was once considered by many fans as a sideshow to actual football games has evolved into a March Madness like affair.
The first round of the 2013 NFL Draft will be broadcast on the NFL Network Thursday, April 25 at 8 p.m.,followed by the second and third rounds on Friday, April 26 at 6:30 p.m. Rounds 4-7 will be held Saturday, April 27 at noon.