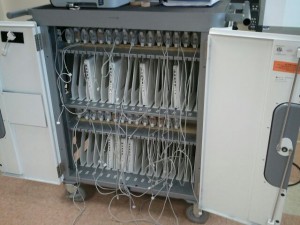 By Alexis Cunningham
Penn Manor High School will introduce a 1:1 program for high school students in January of 2014. The 1:1 program will be giving each student their own personal laptop.
According to the Lancaster New Era, the technology department, lead by Charlie Reisinger, introduced the idea this past fall, but the 1:1 program was not presented to the school board until March 18. The board approved the plan on April 1.
The laptops will be monitored by the school's network for appropriate use only. Each student is responsible for any damages and viruses to their laptop.
"Laptops will be connected to the school's network. When off-campus, the Internet will be filtered via the district web-filter," said Reisinger. "The laptops will be personally assigned to students and may be used both in school, at home and off-campus."
With the 1:1 program, each student has access to the internet at school as well as at home.
"They are first and foremost a learning tool and we trust that students will use them for educational pursuits. The Penn Manor  Acceptable Use Policy applies in full—even when the laptops are off-campus," said Reisinger on appropriate use of the laptops.
Although there was some debate over the type of technology to purchase, the teachers who helped create the program decided that a keyboard is essential for writing purposes. The district is considering netbooks.
"However, my team and I are still evaluating various models. We still have a great deal of testing to do before making a final model decision," said Reisinger.
The 1700-student high school is due for laptop upgrades in the upcoming year. According to Principal Dr. Phil Gale, the cost to purchase laptops for each student is now much cheaper than it would be to replace all of the current laptops.
"Costs are estimated at approximately $580,000," said Reisinger. "To put that figure in perspective, the Pennsylvania Classrooms For the Future (CFF) grant provided approximately $470,000 for the 400 current MacBooks."
The 1:1 program offers many benefits, including the possibility of allowing the student to purchase their laptop when they graduate. This is due to the fact that every three to four years the laptops need replaced.
However, Reisinger says that the laptops will be reused for upcoming freshman as of right now. The tech department is also offering students with advanced computer skills to become a tech-support team in a form of an internship.
Dr. Gale said that the laptops will give the student body more opportunities to apply what they have learned in class.
According to Reisinger's blog, the 1:1 program is intended to improve class engagement, school attendance, science and math skills and writing and language arts.
"That's our whole purpose (of the laptops), to improve student achievement," said Dr. Gale. Dr. Gale is hoping that the 1:1 program will eventually advance Penn Manor's curriculum.