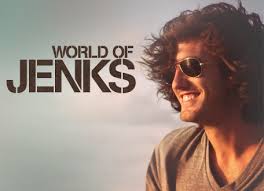 By Coral Consylman
MTV is known for crazy reality shows featuring pregnant teens or wild partiers. For its show World of Jenks, MTV took a completely different direction.
Andrew Jenks is a famous filmmaker who created a show where he lives with three different people with different backgrounds and struggles within a year.
 Jenk's reason for this show is to make a show that's not just filmed but where he experiences these peoples' lives. He wants to film lives of the real heroes and survivors not usually shown on tv. On the current season of World of Jenks, he follows an autistic boy, a dancer who lost his brother to the streets and a girl who's struggling with cancer.
Chad, 21, is just graduating high school and starting to live his life on his own, while struggling with his autism and trying to separate himself from his parents. He struggles with anxiety and the feeling of not being able handle things on his own.
On the show, Chad was having a hard time doing a speech for his graduation ceremony and has a hard time sleeping in his own room. As he grew out of that stage and started sleeping in his own room, he felt uncomfortable if Jenks wanted to sleep in his room too. Jenks was patient but finally helped Chad through that fear.
Kaylin, 23, is an aspiring fashion designer who struggles with two different types of cancer that were found six months apart. Kaylin had Ewing's sarcoma, a rare bone disease that she is battling once again. With her struggle she still is trying to make her dream come true by moving to New York and becoming a fashion designer.
D-Real, 21, is a hip-hop dancer in Oakland who grew up in the streets selling drugs. He got his brother into doing it, and his brother ended up killed in a shooting. D-Real then realized the streets were not for him and started doing his passion, dancing. He became YouTube famous by making a video with his crew called "Dancing in the Rain," a tribute to his brother and all of his friends who lost their lives to the streets.
D-Real's goal is to try and turn his town away from violence and try and pursue dreams through dancing. He holds friendly dance competitions as a sign of peace and enjoyment. Jenks follows D-Real's life in helping him accomplish his dream for the better of Oakland.
Being one of the most popular and inspiring shows according to MTV, World of Jenks catches the eye of our generation of young adults. Some students of Penn Manor were asked why they watch World of Jenks and how they think the show is inspiring.
"I think World of Jenks is a show that our generation would benefit from because it shows that just because you have a physical or mental illness doesn't mean you can't live life and live your dreams. It is a great show for our generation to get into for the reason of showing that being different is okay and that people who are accepting are the strongest people out there. Andrew is an awesome example."  says Katie Myers, junior and a fan of World of Jenks.
World of Jenks consists a season of ten episodes and airs every Monday at 11 p.m.