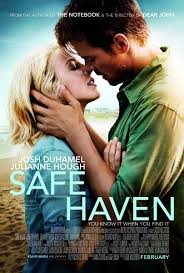 By Lindsay Terry
Safe Haven, a movie based on the best-selling novel by Nicholas Sparks, hit the big screen on Valentines Day.
In the movie, actor Josh Duhamel plays local store and bait shop owner, Alex Wheatley, who is trying to forget his painful past while supporting two beautiful kids. Actress Julianne Hough plays Erin Tierney, a young woman who changes her name to Katie Feldman in an attempt to try to escape her painful past and a man she thought she loved.
Throughout the movie and the novel, set in South Port, North Carolina, the two develop a slow but steady relationship that all starts when Alex's daughter helps Katie check out a few items at Alex's local store. The rest is played out with suspense, romance and tear-jerking scenes as the couple fights their pasts together while creating a safe haven in each other.
There were mixed reviews on the book compared to the movie, and lots of controversy on whether Nicholas Sparks and his producers got the movie "right" themselves.
Freshman Julianna Cox said she enjoyed the movie.
"I think that it kept you on the edge of your seat, if you hadn't read the book," said Cox.
Cox is less positive about the comparison between the book and the movie.
"The book to the movie was a little disappointing. I expected a little more from the movie. The actors were exactly how I pictured them, but the book was 10 times better than the movie." She also commented that the movie took a little too long to get Alex and Katie together, and didn't quite explain the relationship between Erin and her "husband" like the book did.
Having seen the movie myself, I thought that the relationship between Katie and Alex should have progressed a little quicker. I also believe that the movie portrayed the character Erin as someone she wasn't. In the movie, Erin is forced to stab her husband in order to escape him and her own death, but in the book, she leaves him while he is on a business trip and there are many chapters in the book with lots of detail explaining the time, patience, and hardship that it took for her to do that.
Like Cox and so many girls in Penn Manor High School, I was enthralled by every page in the novel, and would have recommended it to anyone who asked. Nicholas Sparks once again never fails to intrigue his readers from the very first page to the last one. The movie lacks some detail that the book had but it's still worth seeing.