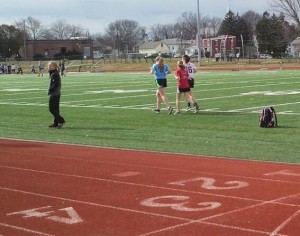 By Alexis Cunningham
A new season is a new start to this spring's school sports. Penn Manor's track team hopes to have a decent season and send multiple events to the state championship.
Head coach Art Morris leads a team of coaches including throwing coaches Joe Herman and Allie Girvin, long distance running coach Lauren Finn and sprint/ jumping coaches Dan Massey, Jana Richards and Tom Simpson.
Penn Manor's Athletic Director Jeff Roth comments that this season's potential depends a lot on the field events. He is confident that the runners will have a good season.
According to Roth, Penn Manor has had a strong track and field team in previous seasons. "Sprinters and distance runners will be strong this year," he said.
Long distance runner Greta Lindsley, a junior, prepared for the upcoming spring season by participating in winter track. Lindsley runs 45-50 miles per week. This season she is running the 3200, 800 and 1600 meter races.
Lindsley commented on her goals for this season, "I like to run the 1600 (meters) so I can break my personal goal of 4:50." Lindsley's record mile time is currently 4:57.
Head Coach Art Morris, who ran middle distance events in both high school and college and has been coaching track and field for 15 years, is confident in the middle distance running events.
"On the boys side we should be strong in the middle distance with seniors Harrison Schettler, Jonathon Bitner, Travis Wells and Shadrack Kiprop leading the way," Coach Coach Morris said.  "The boys also have strength in the sprints and jumps with LeVonta Jones and Adrian Viruet. Javelin throwers Nate Binkley and Luis Marcelino will be factors."
"On the girls side, Greta Lindsley and Meghan Maisano are experienced returnees who will be key factors in the middle distance," said Morris. "Katie Stringer is a strong thrower in both shot and discus."
Coach Morris said that the season is hard to predict due to the fact that the majority of the team is on the younger side.
"We have pretty young teams (only one senior on the girls team) so I expect many of our athletes to experience nice improvements as the season progresses,"  Coach Morris said.
Penn Manor girls team defeated McCaskey 79-69 and the boys team lost 57-93 their first meet on March 22. On March 27, both teams lost to Hempfield.