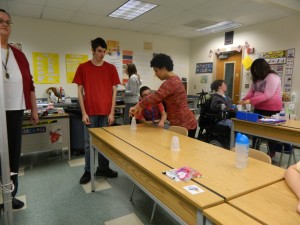 By the Life Skills and School to Work classes
The Activities Club was started by the Life Skills and School to Work classes in the 2008-2009 school year. Club members have a great time meeting new people and socializing during club time and after school activities.
Every year the Activities Club plans many fun events. During the club period, the members meet and plan a monthly activity to participate in after school hours.
The first big event of the current school year was tailgating. The club makes Penn Manor merchandise and snacks to sell. They then go to the football game and enjoy watching the game together. This year, Activities Club members even got to sit on the field to watch the game.
The club also celebrates the holidays by holding a party during club period at school, which includes a Secret Santa gift exchange. The club also recently held a game night where the students played video games, board games and enjoyed snacks together.
"The club is wonderful.  I like hanging out with my friends," said club member Alex Ditmer.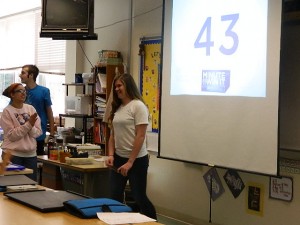 On Thursdays during club period, the students are challenged with "Minute to Win It" and team building activities.
"My favorite game was 'Junk in the Trunk' because we had so much fun," said club member Cristian Phibbs.
The club ends the school year with a picnic at the Millersville Park to celebrate another fun and successful year with games and a cookout.
Some future activities the club might participate in include bowling, miniature golf and watching movies together.
To be part of this club, students must see Mrs. Melissa McMichael in room 239 or Mrs. Rachel Taylor in room 235 to fill out an application at the beginning of the school year during club sign ups.  The Activities Club can accept up to 35 applications.