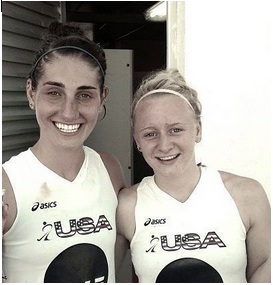 By Nick Tulli
Jill Witmer's field hockey career began in eighth grade, although reluctantly.
"We had a gym built on our farm for my dad's boss's daughters to play field hockey in," said Witmer. "My parents knew I had an athletic ability and they thought I would love to play field hockey and thought I should give it a try,"
Initially, Jill refused.
"My parents knew my personality and knew that I didn't want to play because I was afraid to try something new," she said.
Her parents kept after her, and she finally agreed to try out for the eighth grade team.
"That fall season I hated the sport, and I honestly did not understand the rules. My parents still did not give up and told me to try it one more year because there was a new high school coach [Soto]." Jill agreed, made the varsity team in her freshman year, and has loved the sport ever since.
All of her hard work paid off in late February when the 2010 Penn Manor graduate was named to the the roster of the United States National Field Hockey Team. Witmer, 21, is one of 18 girls to be named to the team, and is one of the only college underclassmen to ever become part of the team.
Witmer made her debut during the teams' March 4 6-0 win over Brazil in the first round of the International Hockey Federation's World League tournament. In round two on March 10, Witmer scored her first goal since joining the national team and helped the team to a 6-0 victory over Trinidad and Tobago.
This win advances the team to World League Round Three, to be held this summer in London; playing in Round Three will give the team the opportunity to qualify for the 2014 World Cup.
USA Field Hockey announced in January that the national team will be based in Lancaster through a partnership with Spooky Nook Sports. The team will be located at Nook Sports, a new complex on Spooky Nook Road.
While at Penn Manor, Witmer was named to the all Lancaster Lebanon-League Team in 2008, 2009 and 2010. She led her team to league, district and state titles in 2010, won gold medals at the 2009 Indoor Keystone Games and the 2009 National Field Hockey Festival and became Penn Manor's all-time leading scorer with 112 goals. Witmer also played on the United States Under-19 and Under-21 teams that toured Argentina. In 2009, she was the featured athlete on ESPN's The Rise magazine, targeting talented students at the high school level.
Penn Manor senior and Boston College recruit Eryn McCoy cites Witmer's play on the United States Under-19 and Under-21 teams as a motivating factor.
"I always thought that it was really cool how she got to go to Argentina and play with the U-19 National Team, and I wanted to have an opportunity to do something like that too. It seemed like a really cool experience," said McCoy.
When asked to explain Jill's ability, Penn Manor Field Hockey coach Matt Soto said, "I have never seen a girl that fast. I've been involved on national field hockey teams as an assistant coach before, but I have never, ever seen a girl that fast."
Witmer says that she would be nowhere near where she is now without the coach she received in high school.
"Coach Soto has been a great coach at Penn Manor and really helped me fall in love with the sport from the beginning. He has taught me what I needed to make it at the Collegiate level."
In three years at the collegiate level, Witmer's resume speaks for itself.
As a midfielder at the University of Maryland, Witmer is a two-time National Champion (2010, 2011) and a one-time ACC Champion (2010), where she scored the game-winning goal over #2-ranked North Carolina.
She started all 24 games as a freshman and was named the ACC freshman of the year. As a sophomore in 2011, she scored the game winning goal to beat North Carolina in the ACC championship for the second year in a row. She was named to the ACC all tournament team as a sophomore as well, and this past year, as a junior, she was named a National Field Hockey Coaches Association first-team member and was named to the All-ACC team for the third consecutive year.
"Since even last year, Jill's knowledge of the game has increased so much. Most people understand the idea that you can be athletic alone, but if you don't have any knowledge of the game, you aren't going to excel," said Coach Soto. "If you put both things together, you become so much better than the competition, and that's exactly what Jill has become."
Witmer agrees.
"In high school I definitely used my speed as an advantage but on the college level you have to know the technical and tactical parts of the game," she said.
"When I first watched her and saw her play, I knew she had the potential to be great. She was among the best players in the whole country at the high school level," Soto said,. "As a coach, we can't 'expect' her to achieve this kind of an honor, but put simply, I'm not surprised. She's just too good not to achieve success."