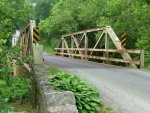 By Coral Consylman
The Eckman Road bridge in West Lampeter Township closed in early February due to rusting and deterioration of the steel beams. The bridge was built in 1935 and spans Millcreek at a total weight of four tons.
The rusting of the bridge was said to be worse due to the flood from Hurricane Irene two years ago.
Local residents reactions to the bridge shutdown vary.
"It's about time the bridge is being redone," said local resident Crystal Consylman. "It is a hazard and although it's an inconvenience, it's better than someone dying."
Rachel Brenneman uses the bridge regularly and expressed frustration with the early closing of the bridge.
"I understand  that the bridge needs to be shut down for repairs, and can respect that, but I think its foolishness to shut it down so far ahead of the Township gaining the appropriate permits to begin construction," said Brenneman. "Construction time will be lengthy enough, without these additional weeks and/or months prior to the replacement. In the meantime people detour unnecessarily."
The township shut down the bridge due to too many complaints from residents.
The bridge was identified as one of the top replacement candidates for the Lancaster County Bridge Capital improvement plan. The Capital plan estimated the cost to replace this structure will be 1.4 million dollars.
Estimated time for the bridge to be completed will be about a year.