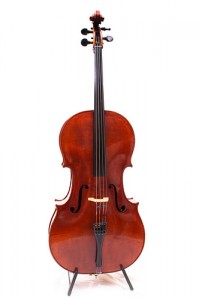 By Elise Klingaman
"I play a string instrument because I can't sing" said Sam Huyser, senior in the PMHS orchestra.
For many orchestra members, that is the case. But when joining orchestra, there are plenty more benefits than a "non-singers support group.''
Every cycle day one, three and five, string players from all areas of Penn Manor high school join in practicing for the upcoming concerts and gigs planned throughout the year. This year, the orchestra has expanded the number of participating members.
Sara Ricciardi, conductor of the Penn Manor Middle and High School orchestras, recalls her first year conducting the high school orchestra.
"In my first year here in 2008, I only had six musicians-total," Ricciardi said. "There were five violins and one viola. It was shocking."
This year, there are seven cellos — a very rare sight in a high school orchestra-two basses, three violas and 18 violins.
Why care?  Studies show that musically involved young adults perform better academically in all subjects.
Ricciardi explains that in music, there are many different types of subjects, all combined.
"In music, musicians use math to count each beat in the measure to know when they join in," said Ricciardi. "Many musicians also have utilized history, language arts, reading skills and physics to aid them while playing."
She also believes that students gain knowledge when learning to play an instrument.
Ricciardi also stated that music is an international language.  Musicians speaking any language can look at the exact same sheet of music and be able to understand and play them-the notes don't have to be translated into that musician's language as do most things in the world.
Students without a musical background who are interested in playing an instrument shouldn't be afraid to try, according to Allison Ulaky, who plays the oboe.
"When I began playing the oboe, I had absolutely no musical background, but I decided to try it anyway," said Ulaky.