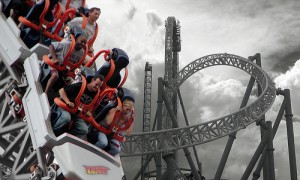 By Anthony Polaski
Although a decision of where and exactly when hasn't been reached yet, the Penn Manor senior class trip is rapidly approaching. Seniors were given a chance to vote recently on which of three amusement parks they would like to attend for the trip.The choices were Hershey Park, Dorney Park and Six Flags Great Adventure.
According to senior class officer Katie Irwin, Hershey Park appears likely to come out on top.
Hershey Park is the closest out of the three choices with only about a 50-minute, 30-mile drive. It also received the highest reviews out of the three on Google reviews scoring a 25/30. Hershey has more than 65 rides and attractions, 11 roller coasters and 13 water rides.
Recently, Hershey tore down one of its roller coasters, The Roller Soaker, and is replacing it with a new 5000-square-foot water "sprayground" area suitable for all ages but generally geared towards those looking for a less thrilling water experience.
Hershey Park differs from the other options and most amusement parks in general because its chocolate factory and Chocolate World at the entrance of the park. Chocolate World consists of multiple Hershey-related amusements including a historic tour ride. Also, this complex is a superstore of Hershey products.
After taking a poll of 10 students' destination choices, Hershey Park was chosen 7 out of 10 times.
"It's a closer drive than Six Flags but still a really nice park, said senior Jason Green, one of the polled students. "Also it'll give us more time to spend in the park."
Another option for the senior class trip was Dorney Park. Dorney Park has 59 rides including eight roller coasters and 18 water rides. It's about an hour and a half away from Penn Manor High School. Compared to Hershey's 25/30 on Google review, Dorney receives a 22/30.
"It has always been my favorite park to go to as a kid, and I always have a blast," said senior Richard Schulz, part of the minority who voted for Dorney.
The last choice was Six Flags Great Adventure. Great Adventure is two hours and 15 minutes away. Featuring Kingda Ka, a multiple world-record-breaking coaster, there is a total of 51 rides at the park including 12 other roller coasters. Even though they possess a super coaster and other famous attractions, they only manage a 24/30 on Google reviews, putting them slightly below Hershey.