By Ian Noll-
The picture of Robert Andino says it all.
It explains the pain and misery of being an Orioles fan, the heartbreak of 14 consecutive losing seasons, the seven different general mangers.
"I've been an Orioles fan as long as i could remember," said junior Tim Harris. "They've never really been great since I've been a fan."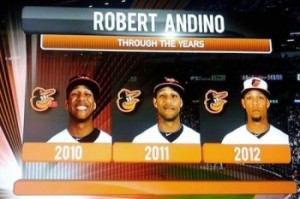 The climax of the past 14 season was eliminating the Boston Red Sox from playoff contention last season, after a late season collapse that caused the Sox to completely revamp their front office.
The Orioles celebrated like they had just won the World Series and maybe to them, it was their World Series.
Lisa Mayo, an English teacher at Penn Manor has been a fan ever since 1983, the last time they won a world series. She has suffered through about 20 losing seasons and still is as loyal as ever.
"It's been a roller coaster ride of emotion, but my loyalty never waivers," Mayo said.
Now it's 2012 now, the season is young and the Orioles jumped out to their usual start. Being over .500 in the first few series, holding their own at the top of the division. Spirits are high, the fans start thinking "this might be our year." But, then May blindsides fans,it  feels like getting hit by a freight train.
May is also known as the reality check. Many fans will suffer from this unfortunate occurrence. Symptoms of the reality check include; the below .500 record, the continuance losing series after series, shattered remains of what once were remotes , and an abundance of bad-mouthing the television.
"Well the years start off like every other, they do good the first 10 games, going 7-3 or 8-2 then tank the next 10 games," Harris said.

But it's May now, the Orioles are 28-16 and are tied for first place in the AL East. They have swept the Red Sox, taken a series from the Yankees, and have showed that they can stand up to their division rivals.
It seems as if the Orioles are actually turning their franchise around and a legitimate contender in the AL east this year. Everything just seems to be clicking. The pitching is strong, well for the most part, the bullpen is lights out, and the Orioles bats actually showed up this year.
Could it be that the O's are under a sturdy manager finally with Buck Showalter?
Or is it that the slump is over.
Whatever it is, Orioles fans aren't complaining.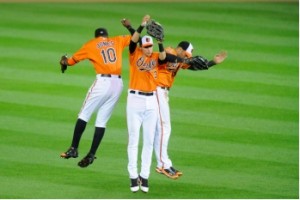 "I can barely contain my excitement. I have watched nearly every game so far and it's exciting because even when they're behind, they often find a way to win…even if it means 17 innings," Mayo said.

Centerfielder Adam Jones has been the go-to man offensively. He is leading the team in batting average, runs, homeruns, runs batted in and stolen bases. If there was a clutch category, he would be in charge of that too, hitting a three-run home run to beat the Red Sox in that 17-inning marathon game and then hitting the solo shot in the 15th to beat the Royals.
According to Roch Kubatko, 9 of Jones's 12 homeruns have either tied or given the Orioles the lead.
The Orioles might have finally found their go-to guy.
Pitching wise, the starters have all been even, some pitching better then others obviously, but the most notable one is the Taiwan born Wei-Yin Chen, who is 4-1 to start the season.
Chen has had strong outings against the Yankees and AL leading Rangers, both games in which he only allowed 2 runs or less. Through his first 7 starts, Chen has only surrendered 3 or less earned runs to opponents.
2012 has been a strange year though, at least so far.
There are teams that traditionally do not win games, that are winning games. Teams like the Red Sox, Angels, Yankees and Phillies, teams who traditionally do win games, are on the losing end of games more often then not.
Then there are teams like the Washington Nationals, Cleveland Indians and Baltimore Orioles who are all examples of teams that have had turn around season and have been beating powerhouses such as the Detroit Tigers, Yankees, Red Sox and Phillies.
Could it be that a change in power is coming to the MLB?
Maybe, or maybe not. But one thing is for sure, if this type of play continues, those years of heartbreak and disaster might be a thing of the past.