By Richard Schulz –
The brown bag lunch is rather boring and mundane but, for some students, it's getting to be an attractive alternative to the cafeteria tray full of food.
Penn Manor junior Austin Ulmer is one of those students who have been packing his lunch recently because he doesn't like the food at school.
"School food is not exceptional," said Ulmer, who declares he packs healthier than the cafeteria, sometimes.
School lunches haven't changed much, nothing new, but now some are deciding to bring a little slice of home with them and are now packing their lunch.
Ulmer does not hate the school food, he mentioned he just feels better bringing his own food. He suggests the school should possibly rethink their strategy and see what students are more interested in. He says the he switched to packing lunch because it's cheaper, more to his liking and a good way to get rid of leftovers.
Other then buying the occasional carton of wings from time to time, Ulmer is happy with his new option.
"If the price of the food is rising, then the quality of the food should be too," said Ulmer.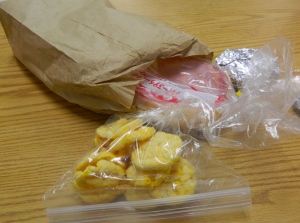 Another Penn Manor junior, Grant Houck, also is proud to pack his lunch and has been doing it for a while. He also mentions that it's a good way to nibble on things throughout the day so he doesn't starve to death.
"I enjoy mine more, that's all," Houck said, referring to his lunch.
On the other side of the register, the lunch ladies haven't noticed an overwhelming amount of students choosing to pack their lunch.
Gail Yohe, a cafeteria worker at Penn Manor, notes that it hasn't been noticeable if there are less students buying lunch. But, students do wonder why the lunch prices rise every year which is a factor in the number of students packing.
"The cost for food is rising yearly," said Yohe.
She also mentioned that even if students are packing their lunches more often, it hasn't affected the costs yet. Other cafeteria workers agreed that they haven't been able to notice any change in the numbers of students choosing to pack their lunches.
Although not yet completely noticeable, the packed lunch trend is here to stay.