By Ryan Flexman –
It will be known as the champion's challenge.
Spain's very own Real Madrid, which happens to be ranked first in its league, is scheduled to play in Los Angeles this summer against last year's Major League Soccer champion LA Galaxy.
The event will be held on August 2, 10:30 p.m. ET at the Home Depot Center in California and soccer fans from Penn Manor will be tuning in.
Austin Wilson, a Penn Manor soccer player said,  "I'm excited for this game, I know Galaxy won't win but hopefully it's an exciting game."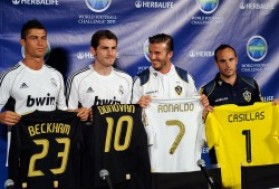 This is the fourth time that Madrid is coming to the US, many believe that it will be another embarrassment to US soccer like the last three meetings.
But others beg to differ.
"I feel like this year its going to be different, the Galaxy are hot after winning the [MLS] championship last year and want to show the world that US soccer is no longer a joke," said Penn Manors Ian Burns, an enthusiastic soccer fan and player.
Burns believes that LA Galaxy will come away with a 3-2 victory over the Spaniards.
The first time the Galaxy and Madrid faced each other was in 2005 when current Galaxy star and captain David Beckham played for Real Madrid.
Madrid went home with a 2-0 victory.
The second was in 2010, when Madrid squeezed a surprising 3-2 victory. The third game was different in 2011, Madrid came to play and left with a 4-1 victory.
"We are excited to give our fans a chance to see the Galaxy take on one of the best clubs in the world in Real Madrid," said Galaxy COO, Chris McGowan. "This will be a tremendous event for Southern California soccer fans, especially with the opportunity to see this game in such an intimate setting as The Home Depot Center. It will truly be one of the must-see sporting events of the year."
This event gives soccer fans the opportunity to watch some of the worlds most valuable players, including Cristiano Ronaldo who is arguably the best player of this generation. Last year's match held over half a million crazed soccer fans, and both teams were supported.
Not only is it a wonderful atmosphere for soccer fans around the country, but the players get a lot out of it too. Playing against some of the world's best players is nothing but a plus for the less-skilled American players.
Some of the players from the MLS's dream is to play on the same field as Cristiano Ronaldo and other stars from around the world, and this is their chance.