By Aaron Brown, Alexa Stewart, and Breiana Herr –
Hold on, the season is not over yet.
This season has had its ups and downs for Penn Manor girl's lacrosse team.
This year has been an above average year for the Comets. They have always had very strong teams, but this year's team has what it takes to take them from a strong team to a dominant team.
They made it to their second consecutive league final game, but lost to undefeated Manheim Township 18-7 on Saturday.
Now, there is a strong district run in the Comets future. The girls have played the number one seed, Township Blue Streaks, in the district tournament 3 times already this season and know exactly what to expect when they see them again. The girls are supposed to play Hershey today.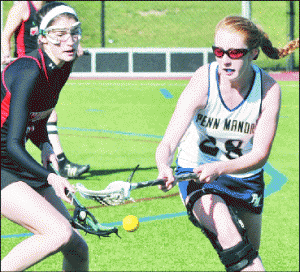 "We need to beat them this time (Hershey)," said head coach, Kimberly Marsh. "The girls didn't play to the ability, but they are ready for the second game."
The lady Comets lost a heart breaker to Hershey the first time on March 23, 10-9.
This was the girls first game of the year. The Comets are a totally different team, now. The girls know what they have to do, they just have to do it
"We have a pretty good chance of winning; the team is more prepared and together now," said Eryn McCoy, an L-L League first team and all L-L League team player.
The girls are ready for this much anticipated rematch.
"We need to work harder and play smarter than last time we played them," said Shannon Sloss, an L-L League first team and all L-L League team player.
Along with a strong offense, the girls have a very strong defense this season full of seniors ready to shutout Hershey tonight.
Along with Eryn and Shannon, Emily Eddowes also received L-L League first team and all L-L League team honor. Emily McCoy and Lauren Ali, both received second team honor.
The team has been led by their all-star cast on offense and defense.
They are looking forward to the challenge ahead of them, but are preparing one game at a time.
The goal at the beginning of every team's season is to make it to the league, district and state tournaments. The girl's goal now is to win the district and state tournaments.
With everything the girls have been through this year, they are definitely capable of accomplishing these goals, they just have to keep working hard, and bring there best effort and ability to each and every game.