By Kevin Holton –
Penn Manor's ice hockey team started off the season strong.
The first two games of the season, the team overpowers Palmyra at the Klick Lewis Arena in Annville on Monday and at the Lancaster Ice Rink on Wednesday.
"We played a strong aggressive game tonight," said Penn Manor goalie Braden Kruger on Wednesday night.  "A lot of good hits and scoring opportunities."
The team finished the game on Monday with a score of 6-2 and a score of 9-2 on Wednesday night.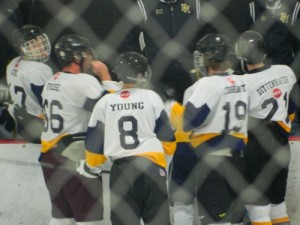 "We're excited with the strong start to the season, this is a very talented group of young men and the potential is limitless," said Penn Manor's assistant coach Garth Bolin.
With Penn Manor keeping the puck away from their goal, Palmyra faced some challenges and was only able to take six shots.
"We moved the puck around, played like a team and had 42 shots on goal and that's what you need to do to win hockey games," said Penn Manor senior defenseman James Frese.
Even though there was a decent amount of penalties during the game, Penn Manor wasn't going to let that stop them from playing their game and it certainly didn't stop the fans from going crazy.
In only the second game of their season, Penn Manor is still improving and working out the minor scratches in game play in order to make them a more stronger, successful team.
"On Monday we had a lot of run and gun-style play, but we did manage to put up six goals. Tonight we improved and had  much more team play game," Said Bolin
Penn Manor plays West York this Friday at the Lancaster Ice Rink.
"It's going to be a tough game but if we play like we know how then we have a good chance to win," said Kruger.
The hockey team invites everyone to come out and support them as they battle for another win.