By Tim Harris –
Kennedy Kulish is a big sister with a big story to tell.
When Kennedy was 6 years old her younger brother, Kaeden, was born with seven different heart defects and had three open heart surgeries at an early age.
Kennedy's mother explained the first time Kennedy met her little brother.
"As parents it's a hard decision to make, for a 6 year-old to see your child like that." Mrs. Kulish said "but I believe that decision for her to see Kaeden like that is why she has such strong bonds for what she does for Kaeden."
Kennedy will be the first one to tell you that her relationship with her brother is like almost any other siblings.
"I do get mad sometimes," she said "but I realize that what we argue about is just stuff, and Kaeden is more than that and we are just lucky to have him."
But what is truly amazing about this sister is how much she does for not only her brother, but hundreds of other children across the country. Kennedy was recently chosen as a WGAL Jefferson Award winner and has been selected to represent Pennsylvania in the national Jefferson Award Contest.
"I just really love giving back to other people," Kennedy said. "It all just started with Kisses for Kaeden."
Kisses for Kaeden is Kennedy's organization that she started for her brother and children like him.
"I raise money for children who need major surgeries but don't have good insurance," she said.
Kisses for Kaeden to date has collected over $134,000, and has caught the attention of more than just local media.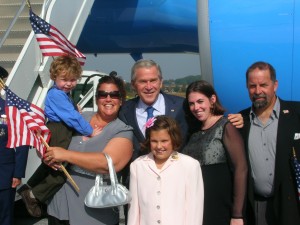 "I remember meeting President Bush," Kennedy said with a smile.
The former President of the United States, George W. Bush flew into Lancaster Airport just to meet this little girl from Lancaster, Pennsylvania.
"It all started when we got a call from the United Way lady who said Kennedy was in the running out of 40 others to meet the president, and we didn't think much of it and we were just honored she was in the running," Mrs. Kulish said "Then we got that call saying she was going to meet him."
Kennedy got to speak with the president and they exchanged gifts, he then awarded Kennedy with a "Call to Service" pin. The Kulish family was also a guest on "The Nate Show" as well as other smaller television shows.
"None of this would be possible without the help of so many people," Kennedy said.
As a member of Color Guard, Cheerleading, Do Something Club, Student Council and as well as being a Volunteer Fire Fighter, Kennedy has more than a busy schedule.
"It means so much when people volunteer to help out. It shows that others really care too," Kennedy said.
"Kennedy is my little Mother Teresa," Mrs. Kulish said "No matter what I know that Kennedy will always do what is right for others."