By Jordan Rineer –
Sitting and waiting for the NFL.
Penn Manor graduate Chas Alexcih waited through all 253 picks for the National Football League potential recruits to see if his name was going to be up in lights.
It wasn't.  But that wasn't the end of the story.
"Initially I was very disappointed because going through the process I had been given a draftable grade by many scouts and coaches," said Alexcih.  "But towards the end of the draft I began to get a lot of calls from teams to sign me as a free agent so the disappointment was short-lived since I had so many options after the draft."
Shortly after the draft he got a phone call from the Miami Dolphins, offering a spot on the practice squad.
Penn Manor's eyes were focused on Alexcih ever since his days as a Penn Manor Comet.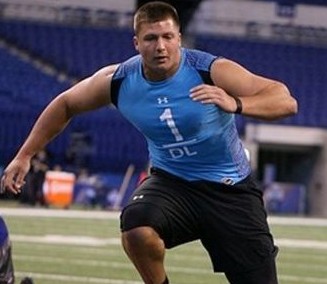 Alexcih and fellow football star for Pitt, Jordan Gibbs, both graduated from Penn Manor in 2007.
Gibbs got offered a scholarship by the University of Pittsburgh coach Paul Chryst.  He waited three years and finally got what he deserved, a starting spot on the team his senior year.
Alexcih however initially was not offered a spot on the team. The University of Pittsburgh coach, Paul Chryst,  liked what he saw, but had no scholarships available. He told Alexcih if he walked on and if he worked hard enough, a scholarship would be his for the taking.
Alexcih has not only earned his scholarship, he became a college standout. In all four years of his college career, he totaled 127 tackles (29.5 for a loss), 18 sacks and an interception. The interception was returned for 47 yards.
Alexcih was invited to the NFL combine. The NFL combine (also called the National Invitational Camp) is a week long event in February in Indianapolis. All the professional scouts come out and see the best college athletes compete for a spot in the draft.
Although Alexcih didn't hear his name called on TV, in the end he got what he wanted. A chance to play in the NFL.
Lisa Mayo, an English teacher at Penn Manor has been following him since her son Tony and Alexcih played on the same team in eighth grade.
"Chas going into the NFL was huge, Chas going to the Dolphins is beyond my wildest dreams and I cannot wait to get my jersey," said Mayo.
Chas has a lot people rooting him on in Pennsylvania.
"It feels great man, I had a great support base at Pitt and since I've signed with the Dolphins there has been an unbelievable amount of people contacting me saying good luck, it really means the world," said Alexcih.
All eyes in Penn Manor will be on Alexcih this season.