By Sam Valentin and Bri Kelly-
The Penn Manor Softball team had three goals going into the 2012 season.
The first was to split the season series against section rivals. The second was to end the season above .500. The last goal was to qualify for the district tournament which was a lofty goal considering this had not been for over 10 years.
They achieved them all.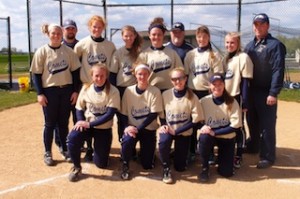 The lady Comets ended the year with a 12-7 record overall and a 10-6 record in there section which was good enough to earn section one runner up to Warwick and a district berth. The Comets play Saturday at 4pm at Garrett Field in Willow Street.
"Proud since the programs been not very good," said Penn Manor senior second basemen, Jenny Hanner about qualifying for playoffs. "My freshman year we won four games."
 When this team were freshman or younger they only won a measly four games.But look how far they have come now.
Through April 10 the girls were sitting third in there section with 2-2 record behind Hempfield and Warwick. They dropped games to rivals, Warwick, and Hempfield early. The Comets took Solanco to the brink on April 13. The game went nine innings but the Mules charged on past the Comets. They then upset front running,Warwick at home on April 27. They continued to surge forward.
They found themselves tied for second in the section with rival, Hempfield on April 30. May second, senior night for the lady Comets was a pivotal game against Hempfield which would potentially decide the runner up in section one.
The game was an emotional one with it being senior night but it was also the biggest game of the year for them.
"I felt nervous," said Comet's senior hurler, Ashley Witmer. "The game had more meaning."
Well they were excited to start the game. But after the top of the first inning they were all but excited since Hempfield scored four runs. In the dugout a sense of urgency and panic was felt. One of the coaches delivered a speech.
It worked to perfection.
The Comets answered back with a big first inning of there own, scoring five runs. They tacked on a few more insurance runs and never looked back on their way to an 8-5 win.
"I was more shocked that we actually beat Hempfield," said Witmer on her thoughts after the game.
But that was not completely secured until the final game of the season which was a win at McCaskey.
This win slates them a rematch against section three champion, Manheim Central. Coming in off a hot streak gives the Comet's some confidence heading in.
" We are feeling very confident heading into Saturday,"mentioned senior first basemen, Vicky Nase." We have really been working as a team lately and have been doing really well offensively and defensively." But to others its an unknown territory which brings nervousness.
"Don't know what to expect, just hoping everything goes well," said Witmer about districts and league playoffs.
"There are always nerves when there is a big game especially since this is out first playoff game while at Penn Manor," added Nase.
" I am sure the will be (nervous) they have not been there since 1999," added Head Coach, David Stokes. "They played basically three playoff games so hopefully that pressure over that span helps us."
They already notched a win against the Baron's in the beginning of the season.
"Mannheim Central is a good team but we will have our work cut out for us," said Stokes."We need to peak at the right time."