By David Mohimani –
The average reader may not have noticed the small 500-word article tucked away on page A7 of the Lancaster New Era  Tuesday.
However the story can have some very real implications for Penn Manor students who are planning to attend college.
Monday a plan to increase Pennsylvania Governor Tom Corbett's spending proposal by half-billion dollars was passed by state Senate Republicans.   This increase would allow for greater spending on higher education. Part of this proposal has $147 million entailed for state-related Universities such as Temple,Pittsburgh, and Penn state. An additional $83 million will be given state owned universities such as Shippensburg and Millersville.
Without the additional money for education the cost of tuition is set to rise dramatically.
The real story is the in-fighting among the Republican party. Corbett ran off the strength of his "no new taxes" campaign, but now his own party is trying to pressure him into modifying his original  budget in order to incease funds for education that can help lower the looming costs of college.
The proposed plan will now make its it way to the House.  Corbett admits considering negotiation but is far from sold on the new budget,"I think we need to be very, very cautious," he said.
The proposal totals about $500 million for spending inside Corbett's budget, but it is unlikey that the entire $500 million will be restored, "Would I consider putting some of that money in? Yes, I would consider it," he said. "But $500 million is a lot," stated Corbett. He also added that that figure ($500 million) is a " ceiling."
A large GOP majority approved the measure 39-8 vote, a fairly definitive result.
The plan would technically keep Corbett's campaign pledge.
"This plan does not create a single new program. It does not raise a single tax," said Majority Leader Dominic Pileggi, R-Delaware. "This is a responsible, sustainable state budget."
So where are these funds coming from?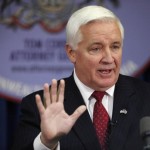 While there will be no new taxes, the plan is contingent upon collecting $900 million in state taxes, much more than originally projected.
It appears that either way the money will be coming out the peoples' pockets some way or another.
If the plan is not approved by the House some project that  tuiton could rise an astronomical  30 percent in some cases, making what is already a financial hardship for most families even harder.
The parents of Pennsylvania will have to wait while their kids college funds hang in the balance waiting for the lawmakers final results.