By Connor Hughes and Jordan Rineer –
Down 2-0, Penn Manor rallied back with three straight games to beat rival Hempfield.
The victory secured the Section One title for the Comets (11-0 Section One, 13-0 overall), their first since since 2005, breaking Hempfield's five-year section title streak.
But, being down 2-0 can really weigh on a team mentally.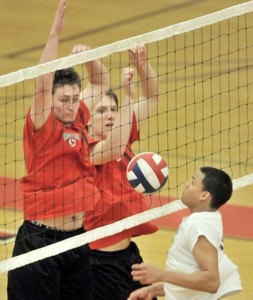 "I was actually being really negative. I didn't foresee us winning at all," said outside hitter Joey Jackson, who finished with 12 kills.
The Comets just lost two straight sets, and their confidence and performance was lacking going into the 3rd game.  But, coach Chris Telesco had a few words with his team, to make sure they were still motivated.
"I told (the players), 'this isn't all you have,' " said Telesco, talking about his comments after the second game. "I told them I believed they could do it, so let's do it. I told them not to focus on game four because there was no game four if we didn't do our job in game three."
Despite the pep talk, some players were still skeptical.
"If you would of told me that we were going to win (the match) after the 2nd game, I wouldn't of believed you," said Jackson.
The Comets were down, but not out.  They got a huge moral and adrenaline boost from the traveling Penn Manor fans.
"Fans really kept us in it," added Jackson. "We really fed off their energy. The crowd was great. you never see that from a volleyball game.  At the away match there was twice as many supporters than our last home match (against Hempfield)."
"We can't say enough about our crowd. We made Hempfield our home court,"
added Telesco. "Our fans came to life in game three and propelled us the rest of the way. It was a volleyball community victory, and that makes it that much more exciting."
Energy and adrenaline can only get a team so far, and the Comets knew they had to step up their game.
The Comets were propelled by a few stellar performances.  One of the most important, but maybe not the most glamorous outputs was from libero Mark Dano.
Dano did the dirty work, and finished the match with a game-high 31 digs.
"Dano was great.  We knew what he could do but no one else realized his capabilities," said Jackson.
The postseason is looking positive for the Comets, who start with a Monday league game at home versus the fourth seed in Section ll.
"This year we are on our way to (making districts and states). We made our road through Leagues slightly smoother. And if we can secure the top position in Leagues, we help ourselves in Districts. We need a good position going into Districts since our district is by far the toughest in the state," said Telesco about his team's upcoming postseason.
The Comets had a miraculous comeback win, and the players were ecstatic.  But, they all had similar feelings about the game, and junior Devon Reis summed it up perfectly:
"I don't know how we did it, but we did it."