By Alicia Ygarza – 
It's an experience for all ages.
Penn manor will hold its third annual Comet Trot and everyone is welcome.
The Trot will be held at the high school track and west gym, on Tuesday, May 22, from 5:30 p.m. to 7:30 p.m.
According to Sallie Bookman, coordinator of the Trot, in previous years the Trot has been held on Saturday, now the planners have changed it to Tuesday because it is more convenient for people who are coming.
"We think this year is going to be good because the choice of day and weather," said Bookman.
Cost for adults to participate in the Trot is three dollars, and the cost for a student to participate is one dollar, there is no registration or sign-up necessary.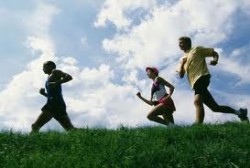 "Our goal is to raise money for the Family Fund, and promote wellness in the process," said Bookman.
The benefits of the Trot will go to the Penn Manor Family Fund, a program that helps families in the Penn Manor School District who are in need.
There will be special activities being held during the Trot like a track challenge for grades k to 6 starting at 6 p.m; a FitKidz Challenge, a free Family Bumba, an optional healthy eating quiz, a grip strength test, and chance to make your own trail mix.
Be sure to get there on time because there will be a free event t-shirt and a bottle of water given to the first 150 participants.