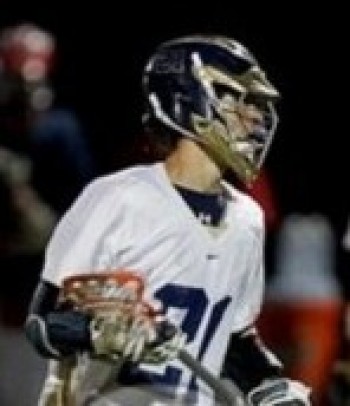 By Brady Charles –
The past three years I've been a part of the varsity lacrosse team.
In each of these past three years, the district power rankings have screwed us over.
And I'm not getting used to it.
Every year, teams with easier schedules and worse records than us, make the district playoffs over us, or they get a higher rank and a easy road to the state playoffs.
We can't win. I mean we win games, just can't win with the district power rankings.
My freshman year, besides having the downright best goalie in the state or possibly in the nation, our team struggled to score goals. We had a mediocre season and finished 9-7. Since we were a part of Section One, we were put in tough position with knowledge that the powerhouses in central Pa lacrosse were in our league (Hempfield, Manheim Township). Our schedule was ranked the toughest schedule in central Pennsylvania.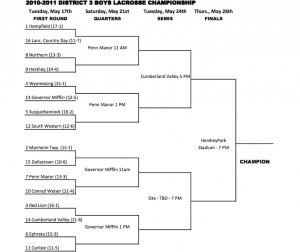 Of course, we had to play both of those teams twice, so scratch down four tallies in the loss column.  Other than losing to those two teams, we held our own against the other district three teams. We were held out of districts this season, which I partially understand due to our mediocre record, but the upsetting thing was the teams we crushed from Berks and York, made the playoffs over us.
It's all a bunch of bologney.
With no surprise, the district championship ended up being Manheim Township vs Hempfield. Hempfield won this one.
That next summer, it was time for a change. The Lancaster Lebanon league changed their whole scheduling procedure. The league combined all of the sections, therefore we played every team only once, actually giving us a desperate hope for districts.
Maybe things were about to change for us, with the leadership of our eight seniors, and the new schedule changes we felt for the first time we had a chance against the untouched Manheim Township and Hempfield squads.
Our regular season ended and we were 13-1.
Unless you want to count the Hempfield and Township games…
That year, we made the league playoffs for the first time in school history. It was a very successful season for us.
But, we lucked out again in the league playoff scheduling.
You can most likely take a wild guess who we played.
It was our great friends from Neffsville, Manheim Township. It was a special year for that Manheim Township team, they graduated 14 seniors after that season, and 4 of those players were Division one commits, 8 of the other 10 ended up still playing college lacrosse at either the D2 or D3 level.
Although we lost in the league semis, we finally made the district playoffs as a number seven seed. We had home-field advantage and ran through our first round game.
But hey, guess who we played next?
Manheim Township… We lost.
Again.
The only thing that's upsetting about this turnout is, while we were turning in our gear, and saying our good-byes, a team we beat by seven goals, got a higher rank then us in districts, and had an easy road to the district semis and made the state playoffs.
Once again, the district seeding process screwed us.
This season, I was determined to not let the district power ratings ruin our season.
It's about that time of year again.
It's the time where my first block computer time, winds up turning into intense browsing of the PIAA District 3 website, calculating what happens if one team wins or one team loses. Or who we will face in the first couple rounds of districts. As of now, we are ranked ninth in the most recent district polls, qualified for the league playoffs for the second consecutive year, and finished our regular season on a nine game win streak and a overall record of 13-4.
Although I cannot predict the future, I wouldn't be surprised if we get screwed in these upcoming rankings.
I just hope these dreaded district rankings don't ruin my whole lacrosse career.