By Brady Charles  –
It's crunch time.
The rivalry game is back.
The Penn Manor boys volleyball team is on pace for a record setting season. The Comets (12-0) and currently first place in Section One, and atop the district rankings. Comets are headed for battle against Hempfield in tonight's section one contest.
The battle begins Tuesday at 7 p.m at Hempfield when the first serve is tossed and the intensity begins.
It's simple.
If the Comets win, they clinch the section title for the first time since 2005, if they lose it's a tie for the section title, which will result in rematch to determine the champion.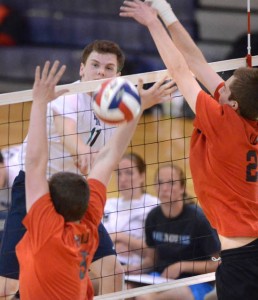 The Comets beat Hempfield April 12 in a five-game nail biter. It was the first victory for the Comets over the Black Knights since the 2005 season. The Comets were led by their senior leaders in the win, DaYonte Dixon had 17 kills with Dylan Weber following closely behind with 16 kills.
"I have been playing varsity since my freshman year, and we've always been either second or third, I'm really tired of it. This is the year we can change things," said senior Dylan Weber.
April 12 wasn't the only meeting with the Black Knights this year. The Comets squared off against the Black Knights in a weekend tournament this past weekend.
The Black Knights beat the Comets in a one game match 25-15. The Comets were playing with one arm, without their star junior libero Mark Dano. Although these tournament matches do not count against a team's official record.
"It's not just beating Hempfield, it's more about winning the section," said Dylan Weber.
Many of the Comets have been anticipating the "real game" for weeks now and the anticipation is growing for them.
"I'll never sleep tonight," said senior setter Cheyenne Weber via Twitter Monday night.
The restlessness will end tonight.