By Ian Noll-
With the 2012 NFL draft closing this past weekend, the Philadelphia Eagles finally have buffed up a defense that couldn't hold a fourth quarter lead last year, even if Ryan Leaf was the opponent's quarterback.
For the Steelers, they added depth to a line that had Ben Roethlisberger spending more time pulling dirt from his helmet then he did running an offense.
"It's one of those things in the past where if they can't keep Ben (Roethlisberger) upright, then they won't be able to win the game," said science teacher Matt Fox, an avid Steelers fan
But fortunately, both teams showed up big and selected players that were needed, not wanted.
The Pittsburgh Steelers finished with nine draft picks, drafting four offensive lineman total, with three in the first four rounds who, according to ESPN's Jamison Hensley, could start for a very long time. This year's draft more than likely solved the Steelers' woes at offensive line, which let up 42 sacks total in 2011.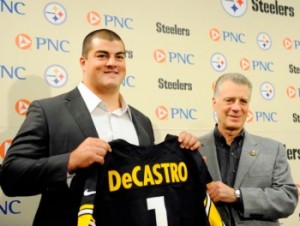 Adding to an already potent offense, the Steelers picked up Florida running back Chris Rainey, Colorado wide receiver Tony Clemons and tight end David Paulson from Oregon. Rainey's addition to the running back core can achieve his potential to be deadly with his speed and agility. He is also a threat on special teams which makes him even more valuable.
Expect a revived and explosive offensive package from the Steelers this year.
"By getting some of their lineman they are building for their future, they have a pretty young line versus what they used to have, which was very injury prone," Fox said.

As far as defense goes, Pittsburgh drafted two defensive players, Sean Spence, a linebacker hailing from Miami and Terrence Fredrick, a cornerback from Texas A&M.
"I think they get beat too many times over, which turns them into a prevent D," Fox said. "I think they will be able to put together some type of secondary that will be able to pass protect more then they did the previous year."
Both players will assume backup positions behind current starters, which with the mentoring of current players could help this defense return to the days of the "Steel Curtain."
The Eagles came out of this draft with their heads held high, bringing in what some call the best draft class under current coach Andy Reid.
Philly drafted four defensive players, something that needed to happen after last seasons troubles.
Added to the defensive line is tackle Fletcher Cox, from Mississippi State, and end Vinny Curry from Marshall.
Cox was a potential top-6 pick in the draft but had dropped to the Eagles at the 12 spot. Expect to hear a lot about him during the up and coming season.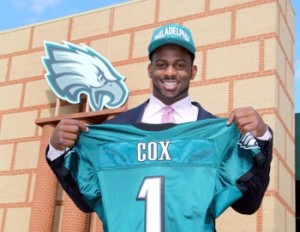 As far as the linebacker core and secondary goes, the Eagles drafted Mychal Kendricks, an inside linebacker from California, and Brandon Boykin, cornerback from Georgia.
Boykin will help fill a gap in the secondary after the Birds sent Asante Samuel down to the Falcons in Atlanta.
"I think they are still a little weak at the linebacker position but they will be able to fight through and win a super bowl," junior Matt Hatch said.
Flip to the offensive side, the Eagles added five players across the already explosive run and gun style offense.
Nick Foles, from Arizona, will be fighting for a backup spot behind Michael Vick once camp starts. Foles was considered a risky pick by many, but with guidance from Vick could fulfill his potential.
For position players, they added to an already solid wide receiver core with the addition of Marvin McNutt of Iowa. Then at running back they added Kansas State's Bryce Brown who ran a 4.3 40 at the combine.
Dennis Kelly (Purdue) and Brandon Washington (Miami) will be joining the offensive line this season too.
All in all, both teams came out strong from the draft, earning high B's and A's from experts rating their draft performances. Both teams will square off October 7 at Heinz Field.
Tune in and see who really is the best football team in Pennsylvania.