By Gabrielle Bauman
Morgan Flood may be on Jeopardy, but that doesn't mean that she's in jeopardy.
Flood, 17, was invited to participate in the Jeopardy! Teen Tournament earlier this year, and and now the air date of May 3 approaches for her episode of the Tournament. Flood, a Penn Manor junior, was both ecstatic and nervous to be on the program.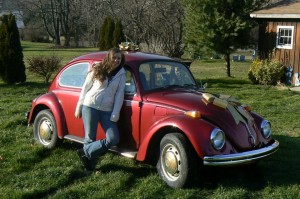 "My hands were shaking," she said.
To compete in the Tournament, contests must first take a practice test on the Jeopardy! website. If the score is good, then potential participants are invited for an interview. If the interview goes well, then the contestant goes to taping to compete.
The taping process actually goes over two separate sessions, the first session in the Los Angeles studio and the players that make Final Jeopardy! going to Washington, D.C. for the second round of taping.
Flood was mum about the results of the taping, "It's part of my contract. I can't say anything that might publish the results before the air date. Sorry, ask me all the questions you want, but I just can't answer the ones about any hypothetical money I could have won."
As much as Flood can't say about her potential winnings, the past winnings are public knowledge. Currently, the winner of the Teen Tournament receives $75,000 plus their on-show winnings, first and second runners up earning $25,000 and $15,000, respectively. Semifinalists win $10,000, quarterfinalists win $5,000. Past winners have also won cars, computer packages, and the winners prior to 2001 were all invited to compete in the Tournament of Champions.
When Flood received the phone call that she had made the cut, she wasn't at home, "My mom called me when I was at Model UN Ivy Leagues, and told me that we were going to L.A. over my birthday," Flood said, "My dad was freaking out, and he never freaks out."
The studio itself was " really big, bigger than you'd think it would be," she said, "They had this box behind the podium that you had to stand on so everyone looked to be the same height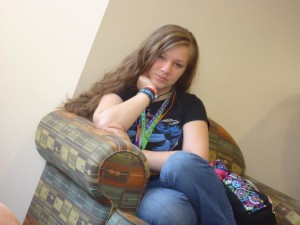 on camera."
Just like athletes using good luck charms or eating a special meal before each game, Flood also came prepared with some good luck charms of her own. In addition to special knee-high socks that her family had bought her at a theme park earlier in the trip, "I had my CTY [Center for Talented Youth] lanyard on and my Flash Converse, which Alex Trebek complimented me on."
The experience wasn't just a trip to Los Angeles and the chance to compete on a nationally broadcasted game show — it also included the chance to meet Alex Trebek, the host, as well. "He was actually kind of hilarious. I didn't get to see this, but apparently backstage he had a crick in his ankle and was dancing randomly around trying to get it out," said Flood, "He was quoting Princess Bride afterwards with me, which was beyond awesome."
"Beyond awesome" seems to be the general consensus about Flood's experience in Jeopardy!
More from Gabie at: 4c3ofsp4des