By Aaron Brown –
Calvin "Megatron" Johnson caught the opportunity to appear on the cover of Madden 13 and time will tell if it is an honor or a curse.
The Detroit Lions unstoppable wide receiver beat out Carolina Panthers Rookie of the Year quarterback, Cam Newton for the honor. Johnson won the voting be receiving 52 percent of the 651,000 votes.
"I wanted him Calvin Johnson to be on the cover because I like him more than Cam (Newton)," said Mike Eshleman, a junior at Penn Manor.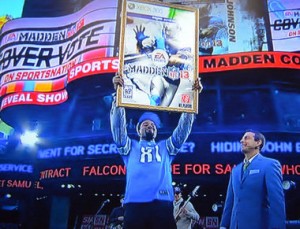 "Man, it's great," a smiling Johnson said in an interview with ESPN. "Just to see yourself on this Madden (cover) and seeing all the guys that have been on Madden? C'mon, man."
"Well I think he's one of the most dynamic players in the NFL," said Mark Dano, a junior at Penn Manor. "He's very deserving of being on the cover."
Students in Penn Manor are highly anticipating the new Madden for its spectacular graphics and reinvented game play.
"The graphics always improve, sooner or later it'll feel like you are in the game," said Dano.

Being on the cover of Madden comes great joy, but also, the "Madden Curse."
"It's hard not to believe in the curse after seeing some of the injuries that the players have suffered," said Eshleman. "I think that Megatron will actually break the curse."

Many former athletes that appeared on the cover of Madden have been affected by the curse.
Peyton Hillis, then the running back of the Cleveland Browns, the player on the Madden 12 cover, rushed for a mere 587 yards in a season plagued by injuries.
Shaun Alexander was on the cover of Madden 07, after winning the Super Bowl, the league MVP, and signing a $62 million contract. He suffered a broken foot in the third week of his post-Madden season.
Michael Vick, then the quarterback of the Atlanta Falcons, was on the cover of Madden 04. He broke his leg during a preseason game and missed 11 games.
Now for the new game play in Madden 13. There are many new improvements on this game.
"Total Control Passing enables gamers to use the L-Stick to direct passes, so you're not only throwing to a specific receiver, but you're throwing to a certain spot on the field," according to ESPN,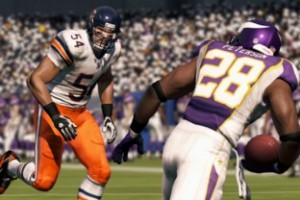 Also, wide receivers will have to be looking for the ball to catch it. No more of the insane catches where the receiver catches the ball through his back.
Cornerbacks will have to be looking back to be able to swat the ball away or intercept the ball. This will eliminate the corner back or safety hitting the ball away with the back of his hand.
"We don't want gamers to hike the ball and instantly hold back on the stick to run backwards," explained game play designer Larry Richart in an interview with ESPN.
"This improvement has been made to both 'Madden' and 'NCAA' this year, and if you hike the ball and don't hold back, your quarterback will take the proper drop automatically, helping you time up your routes rather than just passing the ball to a receiver who has only taken two steps and has his back to the action."
"The changes are awesome because it makes the game more realistic," said Dano. "You become the quarterback without getting off the sofa."