By Taylor Skelly-
A 2,000 graduate of Penn Manor High School who is the guitarist in the band Slackwater News. Who is Matt Johnson?
If you are familiar with Jeopardy, then that form of answering a "question" with a question is also familiar to you. It's also familiar to former Penn Manor alumni Matt Johnson who went to battle with two other contestants on a recent episode of Jeopardy, which aired on Tuesday, April 24. Despite his third place finish, Johnson managed to rack up a respectable 12,400 points on the most popular game show on TV, walking away with $1,000 in prize money.
"I don't think it matters what place he got, he still scored a good amount of points and represented Penn Manor well," said junior Harrison Schettler, who watched a portion of Johnson's episode of Jeopardy.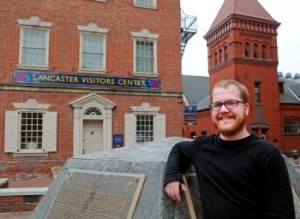 Johnson, who is a huge movie buff, admitted that the questions were actually pretty good for him, but struggled with the buzzer through out the contest, which impeded his ability to get his answer in.
Along with his struggles with the buzzer, the personalities of the other contestants also made it especially hard to compete to the best of his best ability.
"The woman who won was super nice, so it made it hard to compete," said Johnson, "I'm naturally very competitive, but she was so positive and kind, it made it tough."
Leading up to the airing of the show, the recent TV star had actually been threatening not to watch, largely because of the "weirdness" of seeing himself on TV. However, come "jeopardy time," Johnson enjoyed the episode with around forty of his friends at his favorite restaurant in Philadelphia.
"It ended up being like a Phillies play off game type of atmosphere, the place was going crazy," stated Johnson.
I was a little nervous about what my friends' reactions would be once they saw it, because I knew for the past several months that I didn't win, and I didn't know if they would be disappointed or upset, said Johnson.
If you weren't able to catch Johnson's episode when it came out last Tuesday, make sure to tune in to any future rerun's of the 2000 graduate of Penn Manor's attempt to win the most popular game show on TV.