By Richard Schulz –
There may be no more competitive race than the competition between athletic shoe makers to come up with the next best thing that will make teens go wild.
Athletes from all sports have a variety of shoes from which to pick. Kids go into stores thinking that Nike or Adidas may be a good athletic shoe, but they may stumble over the number of choices.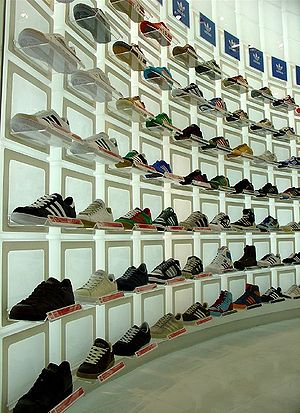 Austin Ulmer, a junior from Penn Manor High School and a high school soccer fan, is a loyal fan of Nike and admits that all his athletic shoes are Nike.
Right now he favors his Nike Shox.
"This shoe is light and flexible," said Ulmer. "It was a random choice but one I'm glad I made."
Ulmer is a soccer player and favors Nike for his shoes, and other apparel. "I'm a Nike fan all around," said Ulmer. All of his cleats are also running shoes which seems to be trending in Penn Manor High School.
Miriam Nelson, nutrition and physical activity researcher at Tufts University in Boston and author of The Social Network Diet, knows her kind of shoe.
"I have tried lots of different shoes," Nelson said. "I wear Adidas Supernova running shoes."
Everyone argues over which brand is better than the other. Ranging from Nike to Adidas or even Puma.
"I don't think any brand is better than any other. It's finding that right shoe for you," said Nelson.
On current charts, the top selling shoe is the Nike Air Max Lebron 8 selling for $157 according to counterkicks.com. All other popular shoes range from $100 to $200. The top two brands are Nike and Jordan filling in the top ten spots.
The link, http ://counterkicks.com/2010/12/09/top-100-best-selling-basketball-shoes-nov-2010/  has the chart of the top 100 Best Selling Basketball shoes.
The shoe is meant to fit tightly without pinching the widest part of your foot. People all have different sized feet and can choose among hundreds of thousands of shoes. Track, football, basketball and many other sports have different forms for different reasons.
Basketball fans may wear Adidas and rock adiZero Shadows or adiZero Roses labeled after NBA player Derek Rose. Football players that like Nike may choose to wear Nike Alpha Speed or Nike Zoom Vapor Fly D's.
Doesn't matter what sport a person does and what brand they rep., the shoe they wear is the shoe that fits.