By Brad Kruger and Alex Lombardo –

Technology is constantly evolving and new inventions are released all the time. With that, 2012 has already seen several new products that are changing the game. These new products range from excuse balls to tablets to cool new apps and are beneficial to people of all ages from kits to elders.
Teenagers these days are becoming addicted to technology and electronics and can't seem to survive without them.
Here are five cool electronics for teens to try out.
"Jury Duty"  Ever need an excuse why you didn't do your math homework? Well now you're set because the new "Instant Excuse Ball" will provide you with the perfect excuse. The small window on the 3 inch ball will get you out of just about anything. At a list price of $9.99 the Instant Excuse Ball is very affordable.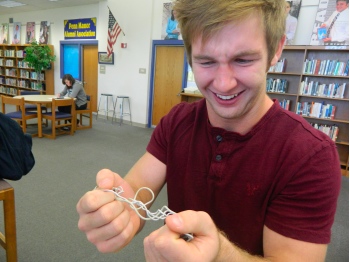 Hate when your headphones get tangled up? Now you don't have to worry about spending 20 minutes untangling them because Jay Johnson's new Cord Cruncher headphones don't tangle! With the use of a retractable sleeve that covers the length of the headphones, you can easily keep your cords parallel to avoid tangling. The Cord Cruncher headphones are a must have for consistent music listeners.
Hungry for some raspberry Pi? Because the rest of the world is. Raspberry Pi, a new, small, fully functional computer hit stores on February 29th 2012 and had over 100,000 orders from one store and sold out everywhere within days. The coaster sized computer sells for only $35 and is built around a 700MHz processor and features a whopping 256 MB of RAM according to Forbes.com. It also features 2 USB ports and an SD card reader used for media storage. For all your compatibility needs, you can also connect speakers to the computer and it offers an HDMI port for television connection. The more than portable computer doesn't even have an exoskeleton just the raw necessities needed for a computer to operate.
New beverage cans have been coming out lately, but they're not full of soda. These new cans are disguised as popular drinks such as Coca Cola and Rockstar Energy but they are actually miniature safes to hide your valuables. For under $10 these screw top cans are a cheap and useful way to protect your secrets.
New apps for smart phones and tablets come out everyday, but recently the new hit app Viddy hit the app store and its become very popular. A fast an easy way to share video's on social networking websites is Viddy's key to success. Users can create an edit videos with the app and even add captions and make posts about their videos.
A new day in age is here and technology is hot in pursuit.
The new products available are cheap and worthwhile to fill all of your technological needs.